You're spoiled for choice if you're looking for the best beach towns near Orlando, Florida! The region offers beautiful white, sandy beaches, lots to do, and a high quality of life.
In this blog post, we'll explore three spectacular beach towns near Orlando, which are also not too far from Orlando Airport: Cocoa Beach, Daytona Beach, and Port Canaveral. Let's get started!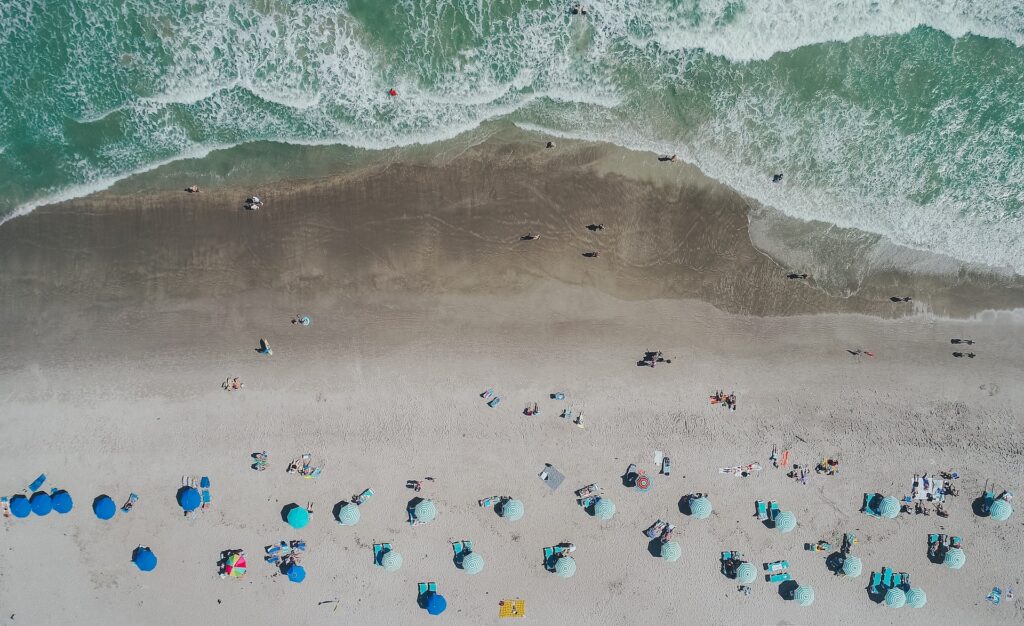 1. Cocoa Beach
Just an hour from Orlando Airport, Cocoa Beach is the perfect spot for a beach getaway. With its white sandy beaches and crystal clear waters, it's no wonder this town is so popular with vacationers.
Cocoa Beach also offers many activities, from surfing and paddleboarding to fishing and kayaking. There are also many restaurants and drinking spots to check out.
Cocoa Beach has earned its title as the East Coast Surfing Capital and offers great waves for all skill levels.
If you prefer something more relaxing, try paddleboarding through the scenic mangrove tunnels of Thousand Islands Conservation Area – home to various wildlife species like manatees and dolphins.
Cocoa Beach is also fantastic for fishing enthusiasts. The historic 800-foot-long Cocoa Beach Pier is a popular spot for pier fishing, and you can book charters with companies like Fired Up Fishing Charters.
After a day of fun in the sun, refuel at one of Cocoa Beach's many delicious eateries. For fresh seafood, check out Florida's Fresh Grill, or if you're craving something more casual, head to Coconuts on the Beach.
Enjoy live music and tropical cocktails at beachfront bars like Sandbar Sports Grill as the sun sets.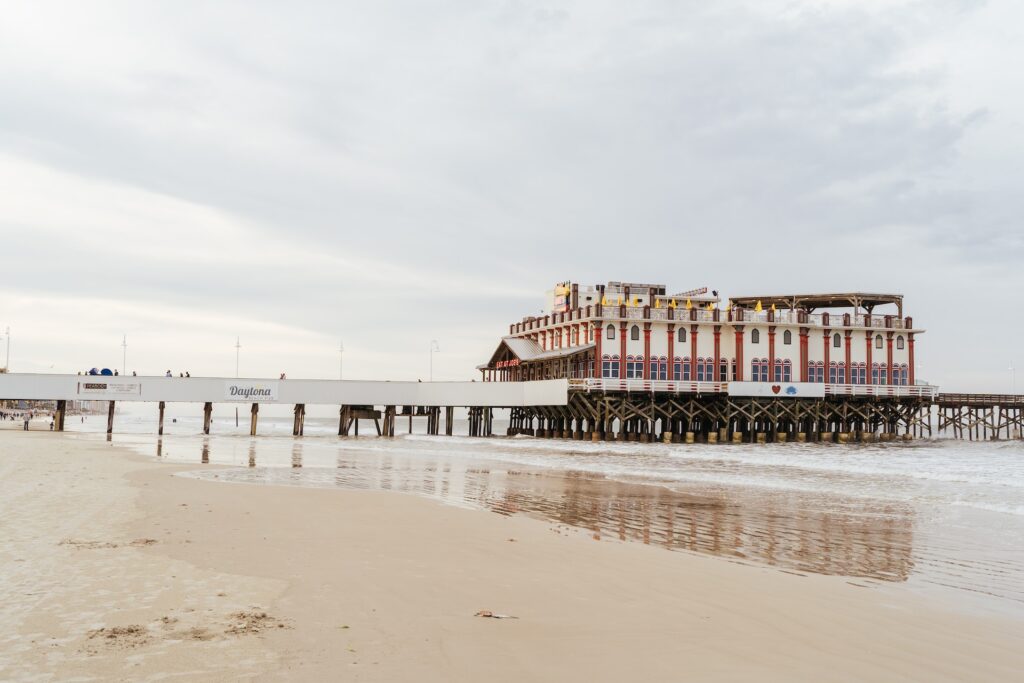 2. Daytona Beach
Located just over an hour from Orlando Airport, Daytona Beach is a fantastic spot for outdoor enthusiasts looking for fun in the sun.
This famous beach town offers various activities and attractions that cater to all ages and interests, making it an ideal destination for vacationers.
When in Daytona Beach, you'll enjoy its beautiful coastline. There's something for everyone, from swimming and snorkeling to parasailing and jet skiing.
You can take surfing lessons from local schools like Daytona Beach Surf School. However, if you prefer more leisurely water activities, consider renting a paddleboard or kayak to explore the area's calm waters.
The Famous Boardwalk and Pier offer various entertainment options, like amusement rides, arcades, restaurants, and shops. It's also perfect for fishing and provides breathtaking views of the Atlantic Ocean.
If you're a NASCAR fan, Daytona International Speedway is a beautiful place to discover the racing history. You can take a guided tour of the track, visit the Motorsports Hall of Fame, or even attend a racing event. Alternatively, you may want to attend the annual Daytona Beach Bike Week.
If you prefer a more cultural experience, Daytona Beach is home to the Museum of Arts & Sciences with its impressive fine art and science exhibit collection.
For history buffs, Ponce de Leon Inlet Lighthouse & Museum is just a short drive away and offers stunning panoramic views from Florida's tallest lighthouse.
3. Port Canaveral
Only an hour from Orlando Airport, Port Canaveral is a great spot for adventure seekers.
This vibrant port city provides various thrilling activities and attractions for all ages and preferences, making it ideal for a beach getaway.
As one of the busiest cruise ports in the world, Port Canaveral has some of the most popular cruise lines, such as Carnival Cruise Line, Disney Cruise Line, Royal Caribbean International, and Norwegian Cruise Line.
Many itineraries are available year-round, ranging from short weekend getaways to extended voyages across the Caribbean or Europe.
If you love fishing, why not take a deep-sea fishing expedition with one of many local charter companies like Obsession Fishing Charters?
You can also explore mangrove tunnels and serene waterways by renting kayaks or paddleboards at Cocoa Kayaking Tours & Rentals.
Otherwise, you may want to pump your adrenaline with high-speed jet ski rentals or soar above the ocean while parasailing courtesy of businesses such as Cocoa Beach Parasail.
A visit to Port Canaveral wouldn't be complete without exploring the nearby Kennedy Space Center Visitor Complex.
Here, you can explore NASA's history, witness live rocket launches, and marvel at real-life spacecraft and rockets – a truly unforgettable experience for all ages. With interactive exhibits, guided tours, and astronaut encounters, it's a memorable experience for all ages.
After an adventure-filled day, unwind by indulging in delicious cuisine or sipping on refreshing cocktails at one of many restaurants and bars in Port Canaveral. From casual eateries like Grills Seafood Deck & Tiki Bar to upscale dining experiences like Fishlips Waterfront Bar & Grill, there's something for every palate.
Conclusion
Cocoa Beach, Daytona Beach, and Port Canaveral are the best beach towns near Orlando, Florida.
Cocoa Beach is famous for its lovely shores and great waves, while Daytona Beach boasts a boardwalk and pier. Meanwhile, Port Canaveral is famous for fishing charters and boat tours. What's more, each town is not too far from Orlando Airport, making them convenient vacation spots.