Summer days at the beach are perfect – the ultimate way to kick back and relax with friends and loved ones. But while easy-breezy beach vibes might make it seem like the most spontaneous trip in the world, in reality, a little prep goes a long way!
Having the right beach accessories and a few fun activities can make or break a beach trip, from the essentials like towels and a beach umbrella to things like coolers, a beach chair set, and of course, a beach table.
Beach tables might seem like a luxury – what do you need a table for if you've got towels or a beach mat? But a good beach table can do away with so many of the small inconveniences of the beach, and turn a casual outing into something really special. Plus, no one likes eating their lunch on the ground or setting their cocktail down just to have sand accumulate as the kids run around! I personally never go camping or to the beach without my foldable beach table, and I have a feeling after you get a beach table you'll never go back either!
So if you are thinking about leveling up your beach kit but don't know where to start (hint, Amazon!), here are a few of my favorite beach tables to get you going!
Heads up: Neat Beach is supported by my readers. If you click a link and make a purchase I may receive a small commission. I only recommend tools I have personally vetted.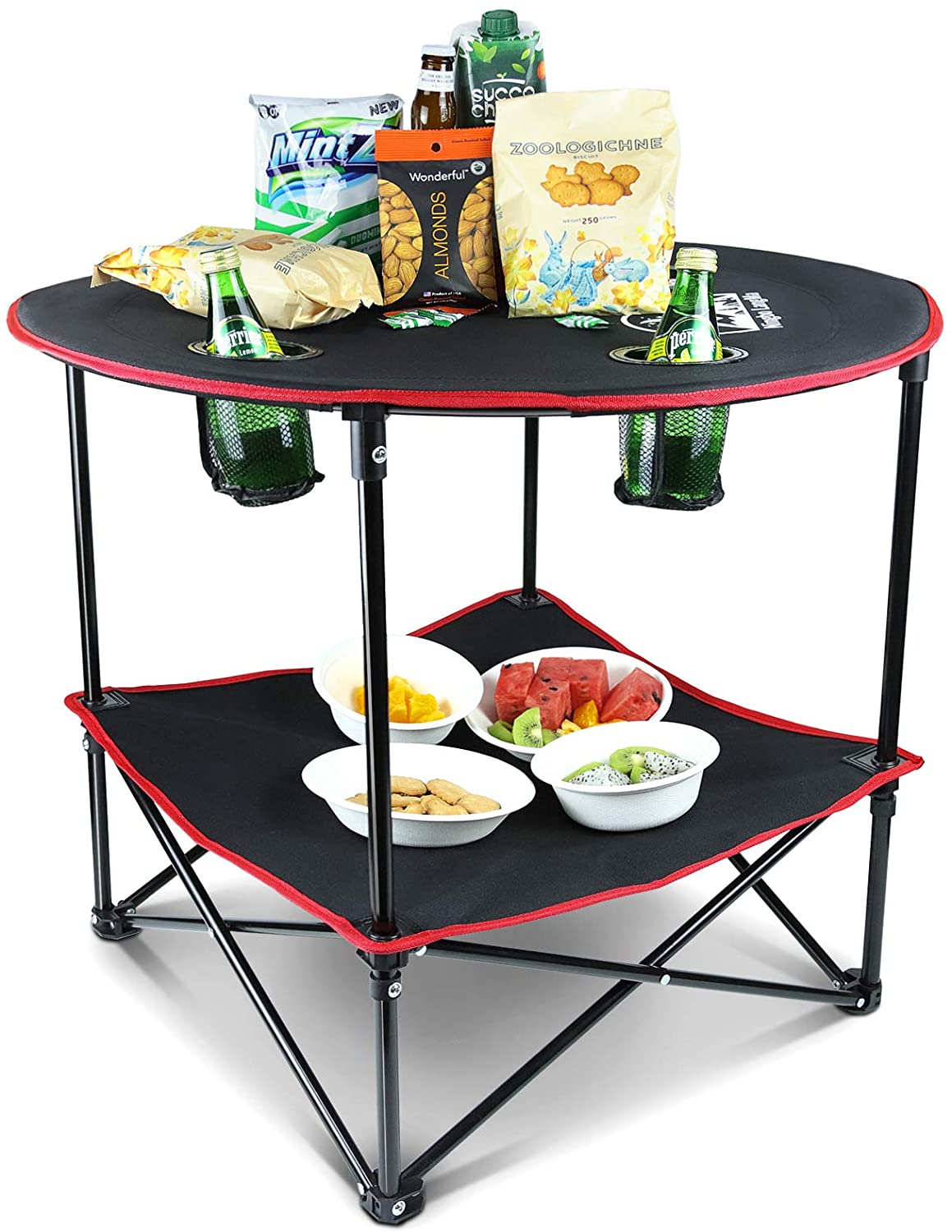 Pros
Four mesh cup holders, so your drinks are always in easy reach and you never have to worry about them tipping over.
Bench bags and two table levels, for additional storage and extra spots to stash your gear.
This one is also waterproof and super easy to clean. I can speak from experience because this is the one I've used for the past few years when I go camping!
Non-slip feet so it works on any surface. I've only had this table fall over once or twice and it was due to user error, not the table!
Collapsible, ultralight, and versatile – sling it in a bag or pick it up with one hand (if you wanna show off!)
Durable – no worries if it's under a pile of gear in your trunk.
Cons
Can be a little fiddly to put together, although once you learn the trick it's not so hard.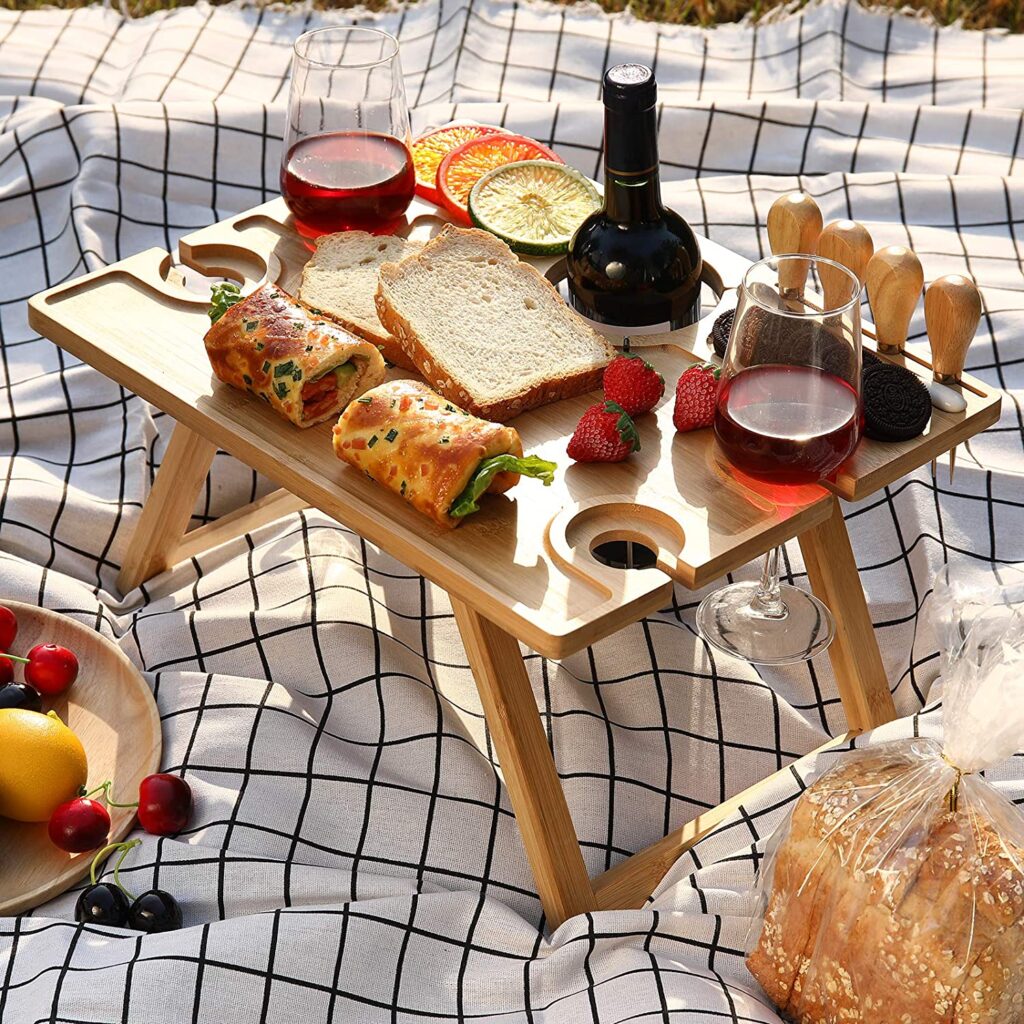 Pros
A stylish portable cheese and charcuterie board to bring class and sophistication to your picnics. This one is great if you want to take someone on a first date and make a little charcuterie board to pair with your wine!
It's Instagram-worthy and makes any beach day feel like a special and romantic experience.
Sturdy bamboo construction so it's durable AND looks great.
Bamboo is better for the environment, so if you're conscious of that this is a great option.
Features a deep recess to stop food from rolling off.
Multi-use holders work for bottles, cans, and cups.
Sturdy legs keep the board steady on any surface.
Cons
The small size means it is more designed for fancy, sophisticated occasions rather than family beach days.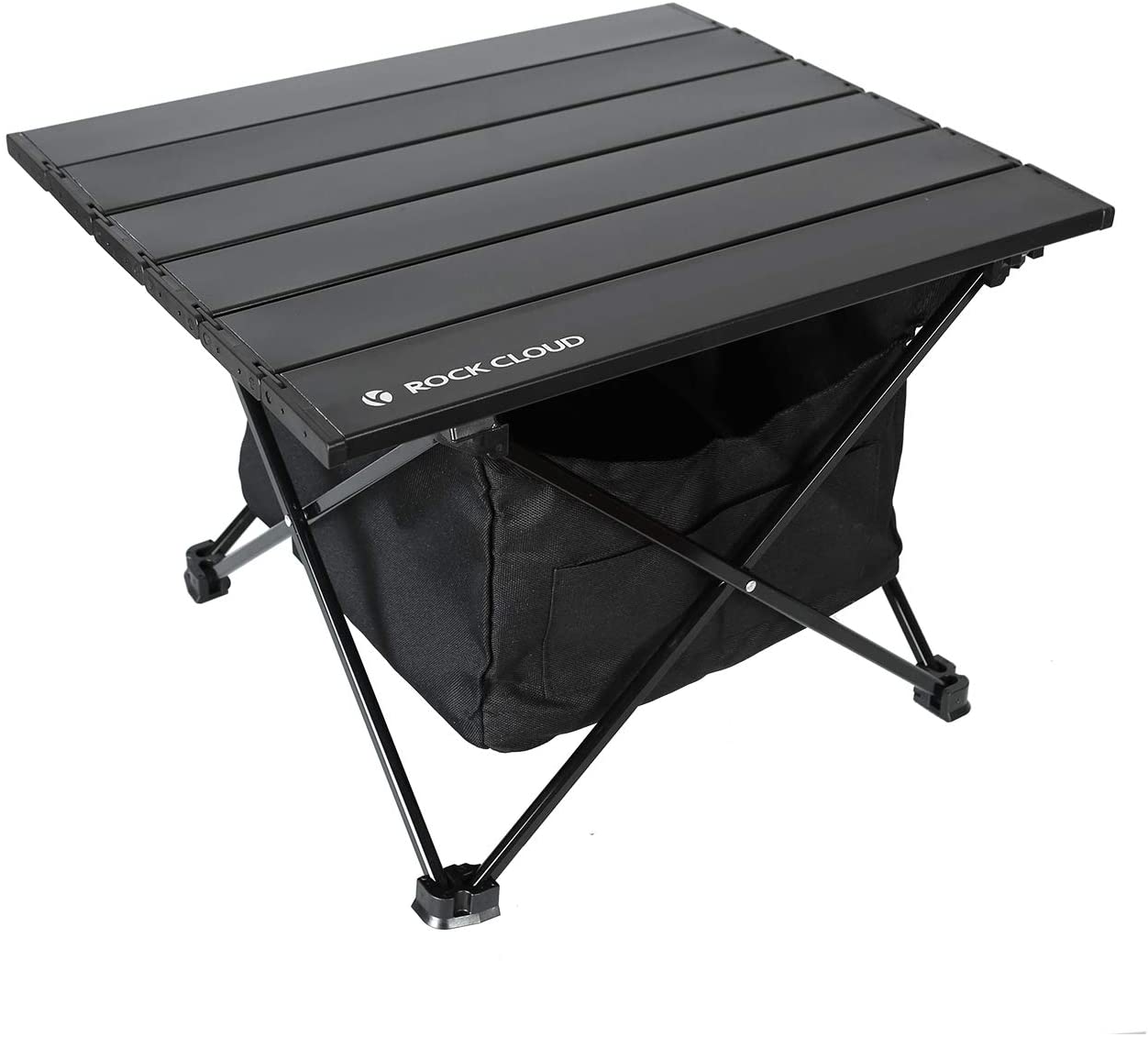 Pros
This one comes with a large polyester storage bag to keep all your gear in one place and accessible.
Ultralight, so you don't need to worry about adding it to your beach bag or camping bag.
Flexible and practical, it works for a wide variety of situations.
Multi-hinged design means the aluminum tabletop folds up to a fraction of its original size – all the benefits of a metal construction without sacrificing portability.
Cons
The tabletop can feel a little flimsy.
Works well for small items but struggles with more significant loads.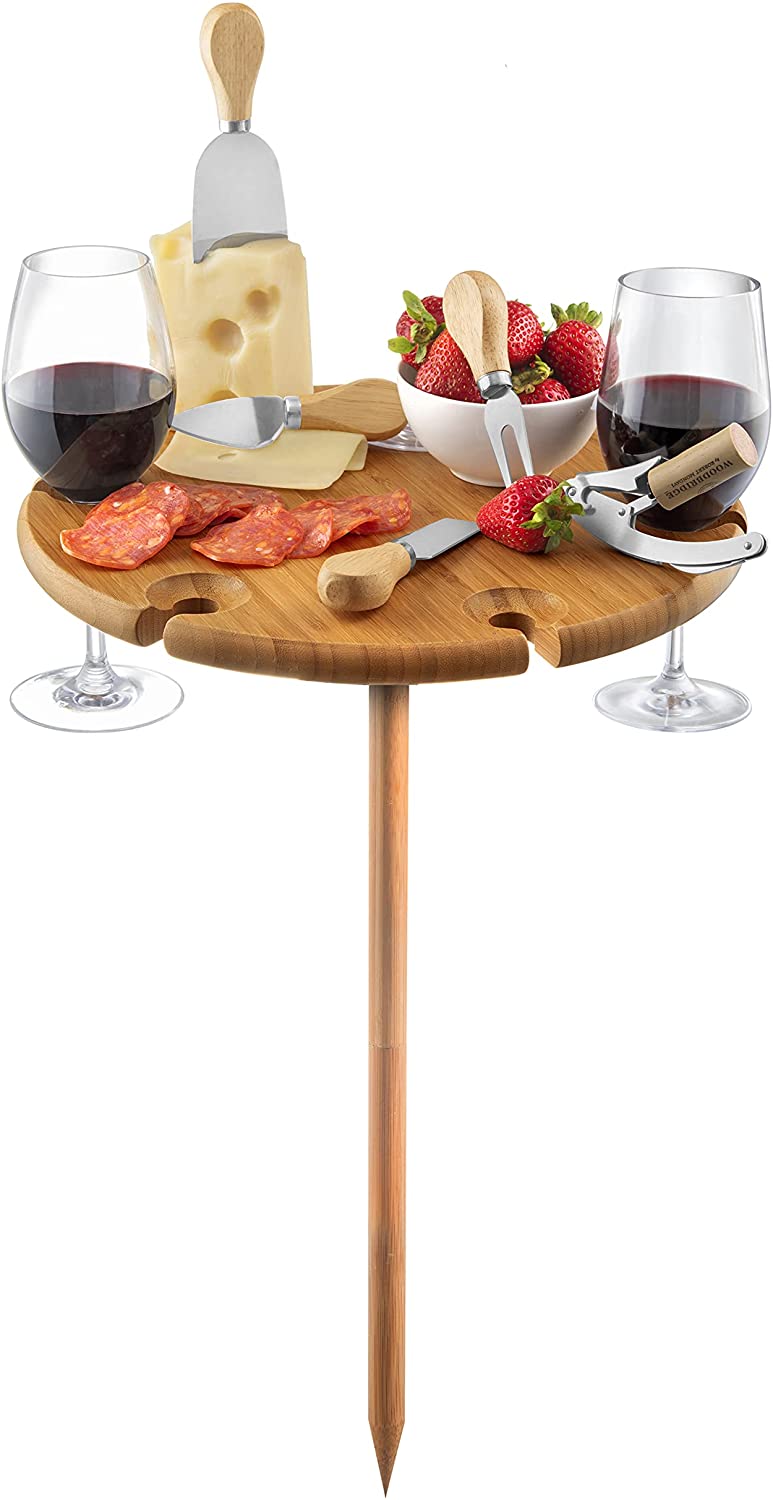 Pros
Smart, sophisticated, suave, and elegant, this table/board looks like you mean business.
The innovative design features hideaway cutouts for a full set of cheese cutlery and a corkscrew (on the bottom).
Includes six holders designed specifically for wine glasses – fancy!
Did I mention there are 6 cup holders?! Perfect for those of you with a lot of friends or those of you who like to hold three glasses of wine in each hand. No judgment, I swear….
Cons
Very much designed for sophisticated affairs, not rough-and-tumble beach days. Not especially rugged, and won't stand up to rough treatment.
The small size means that it won't fit a picnic for the whole family, but for an alfresco wine and cheese evening, it is hard to beat!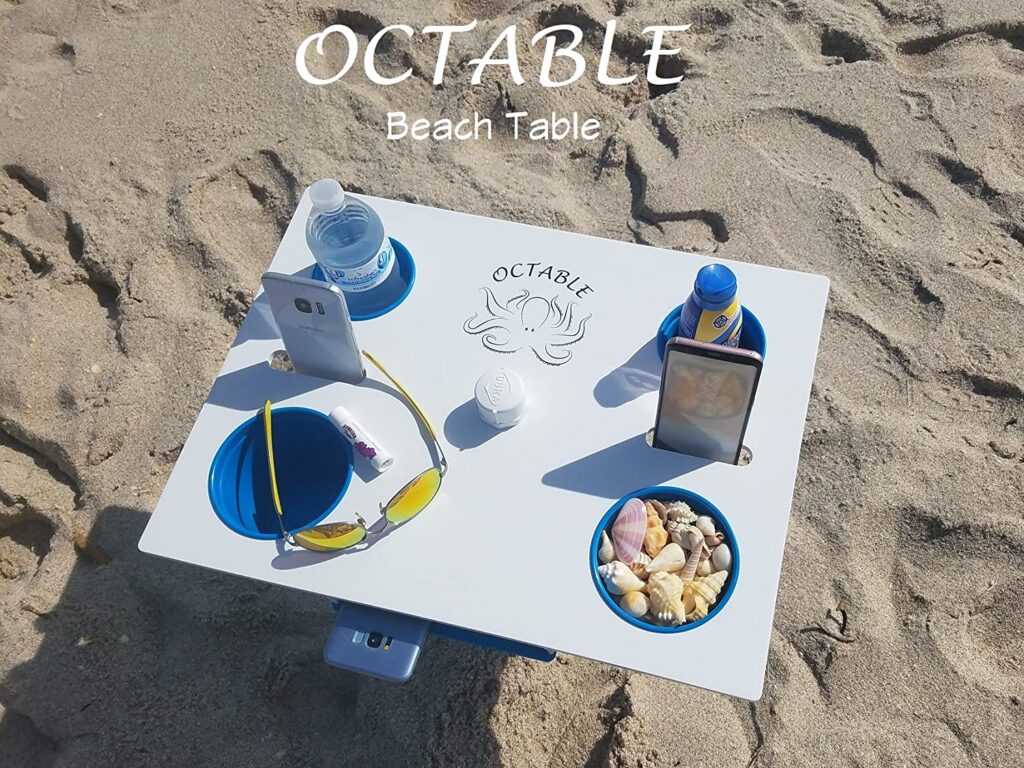 Pros
Incredibly simple, versatile, and fit for almost every situation.
Polymer top is hard-wearing and easy to wipe clean.
Includes four glass holders so everyone's drinks are safe.
The innovative design includes a separate tray underneath to keep phones and e-readers out of the sun.
Cons
Extremely functional design is not especially attractive and doesn't come with many extra bells and whistles. If you're the type that wants everything to look "insta-worthy" then this one might not be for you!
Stake support can be unstable if the sand isn't firm.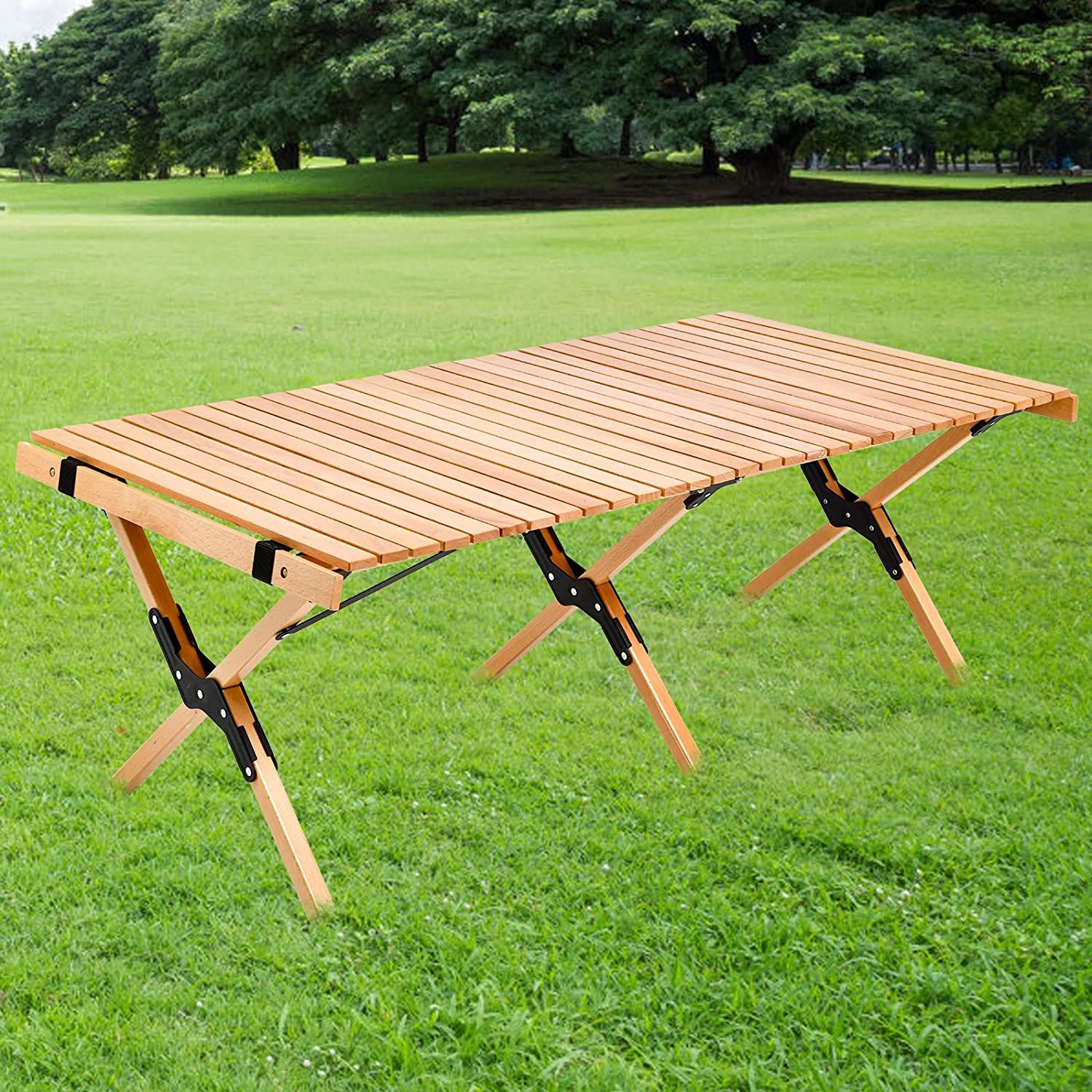 Pros
If you want something with a bit more capacity, like a beach dining table, then Balee's camping table could be the way to go.
Solid wood construction makes it attractive and durable.
The roll-top design means it folds up surprisingly small.
This one is perfect for people who have families and may want to eat together.
Cons
It is a little heavier than some of the other tables I've tried, but really that's a small quibble. There's not much wrong with this offering!
It is also large so it probably wouldn't be something you'd buy if you're typically only traveling with one or two people.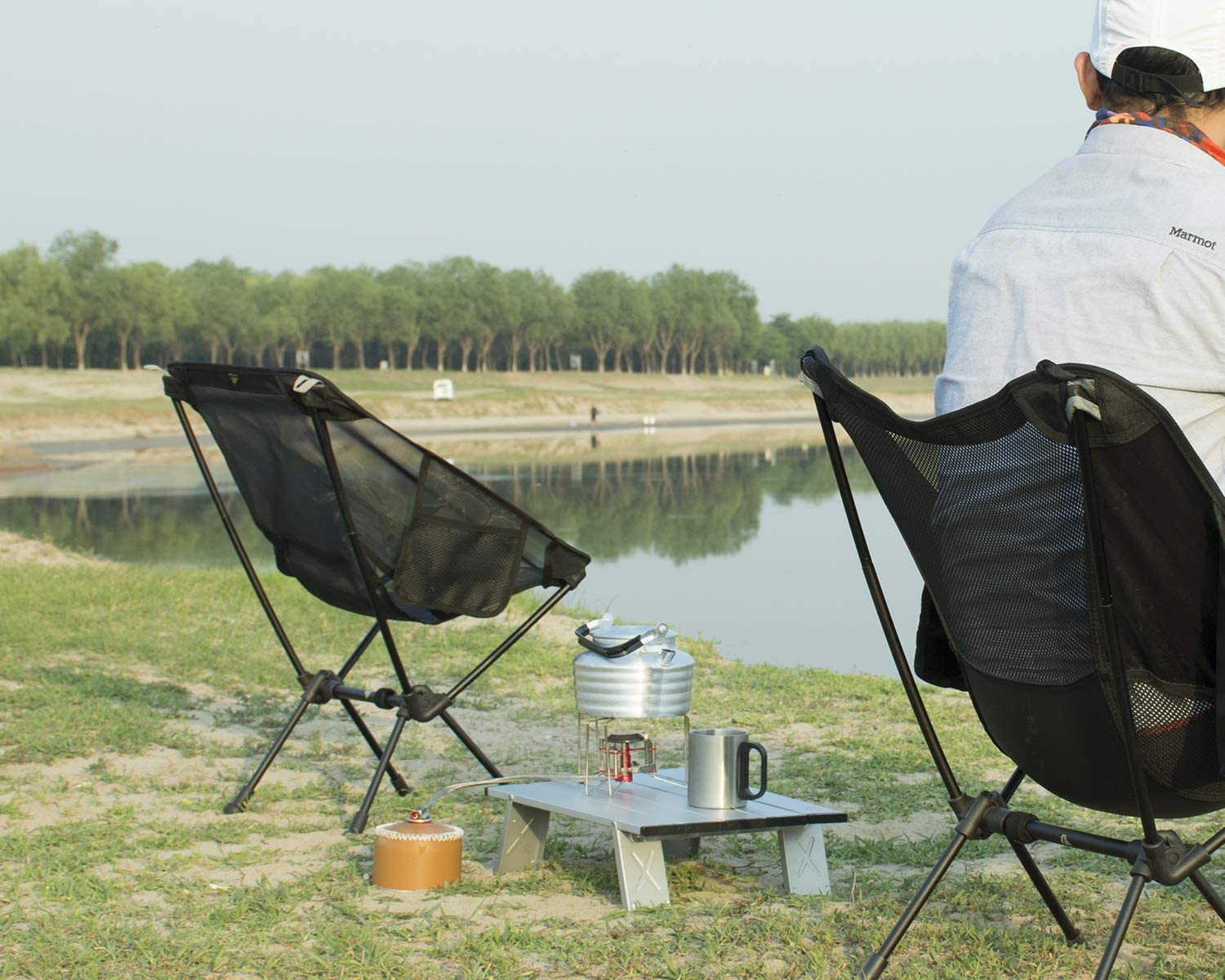 The unusual stainless steel design makes this outdoor table a little different.
Light and doesn't take up much space.
Waterproof and corrosion-resistant.
Heat-resistant – possibly the only table on this list to offer this feature!
Incredibly easy to assemble, with a heavy-duty flat surface, and can take a lot of hard use.
They even offer a lifetime warranty, which is nice!
It's very portable and small so if you're on a motorcycle, bicycle, or backpacking this might be perfect for you.
Cons
Small and only sits a few inches off the sand. Your food could still be vulnerable to grit disturbed by wind or careless feet. But for a 'mini' side table option it does a decent job.
This one is basically for keeping your stuff off the sand or dirt, not necessarily for eating lunch on. I'd recommend it for people that are looking for something really small and sturdy that packs up easily with no fuss.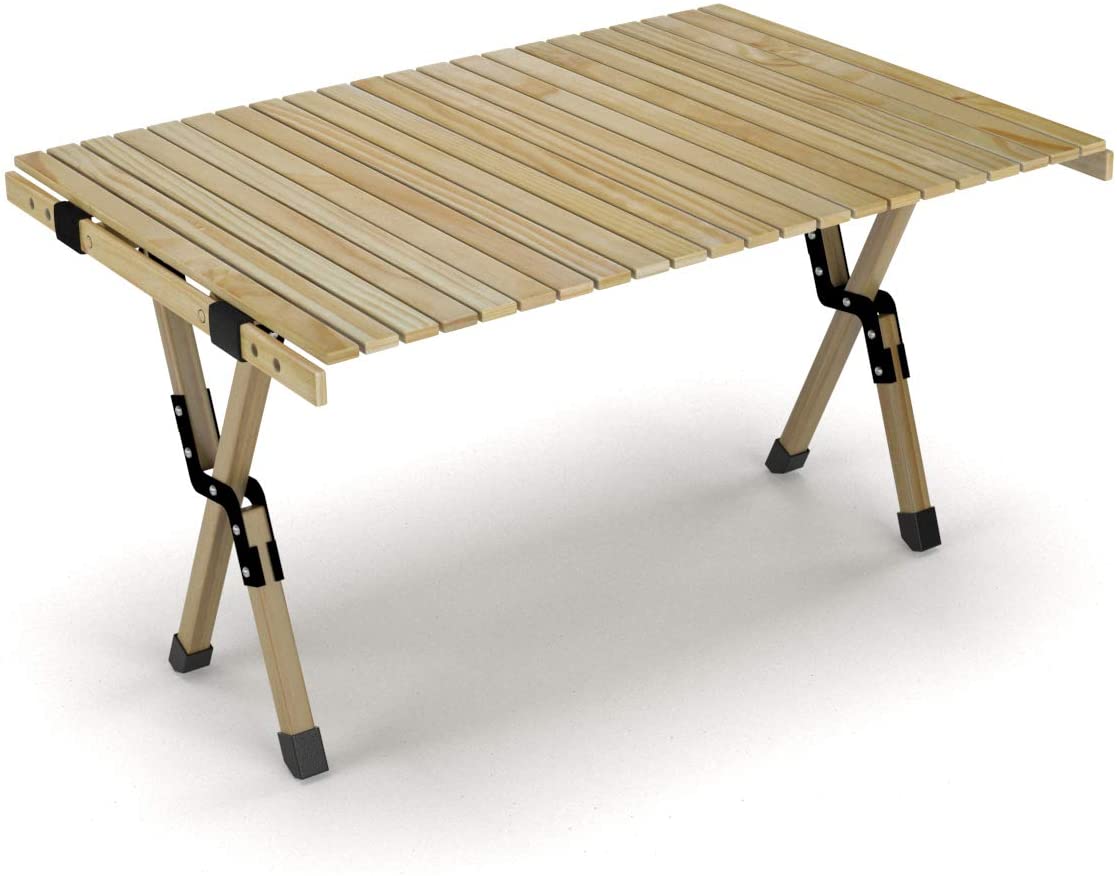 Pros
Another great-looking wooden table.
Rolls up remarkably compactly into its carrying bag.
Similar to the Balee version above, it comes with extra non-slip rubber 'feet' for added security (when not on the beach, obviously!)
It's attractive and made of pine so you'll feel like a fancy man or woman with this bad boy!
You can adjust it to the level you want – with three-level options to choose from.
Cons
It is maybe a little less sturdy than the Balee.
I personally prefer the beechwood of the Balee to the pinewood of the GDLF, but there's not a lot of differences between them!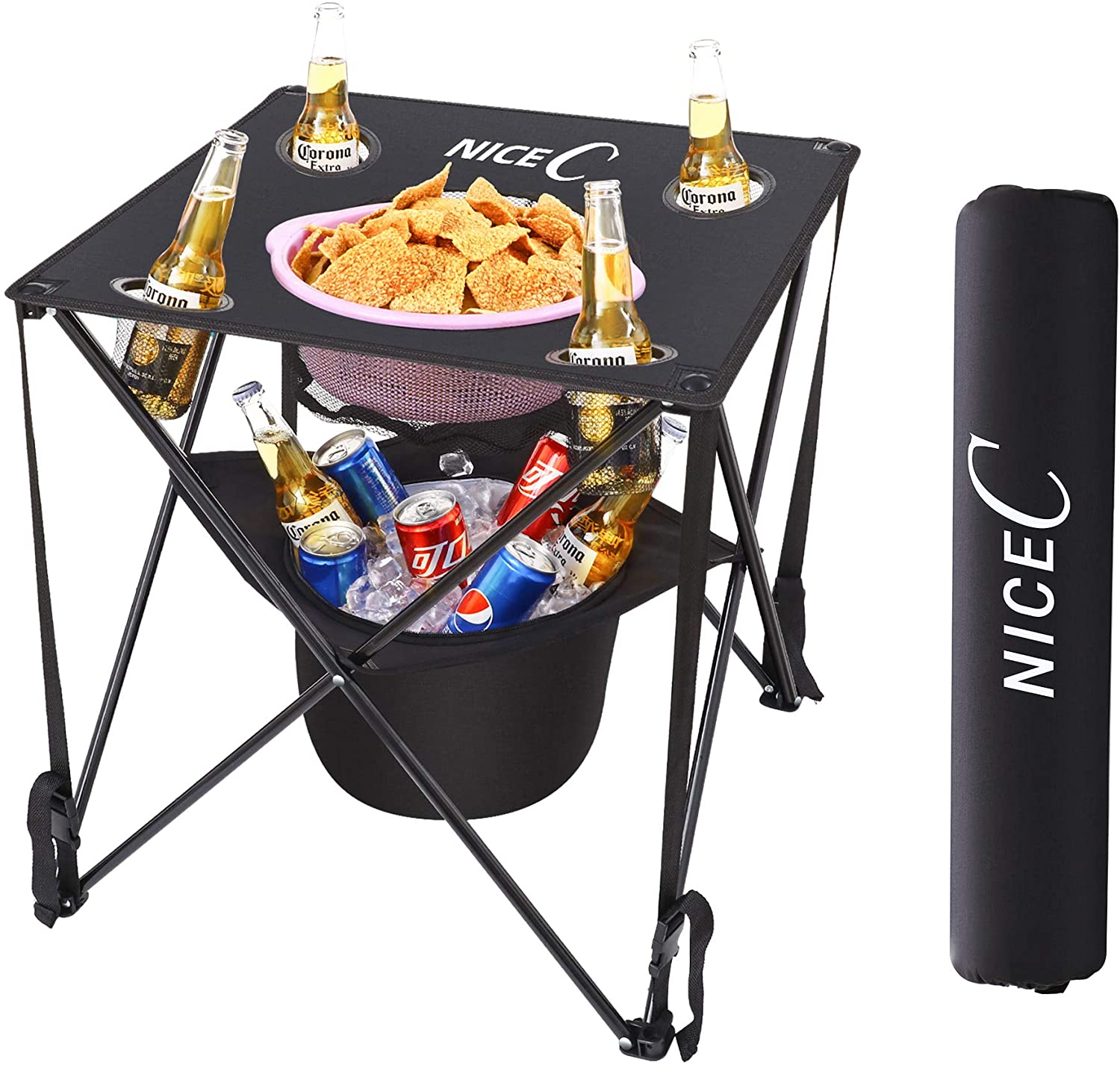 Pros
The perfect table for good times at the beach – the ultimate beach party table.
Includes integrated cooler/icebox to keep your drinks cold. This is by far my favorite feature. It's so convenient to have everything you need within reach (you'll never have to get up again!) and I love having cold drinks on hand.
The snack holder is perfectly designed for nachos or chips.
There are 4 cup holders
It's waterproof so spills and messes can be cleaned off easily
Their delivery is super fast which I really appreciate
Cons
Not a lot of table space (most of the tabletop is taken up with cup holders and a space for a snack bowl).
The cup holders are too small to fit my Yeti or larger cups. Small downside but kind of annoying since I love drinking out of large Yeti's.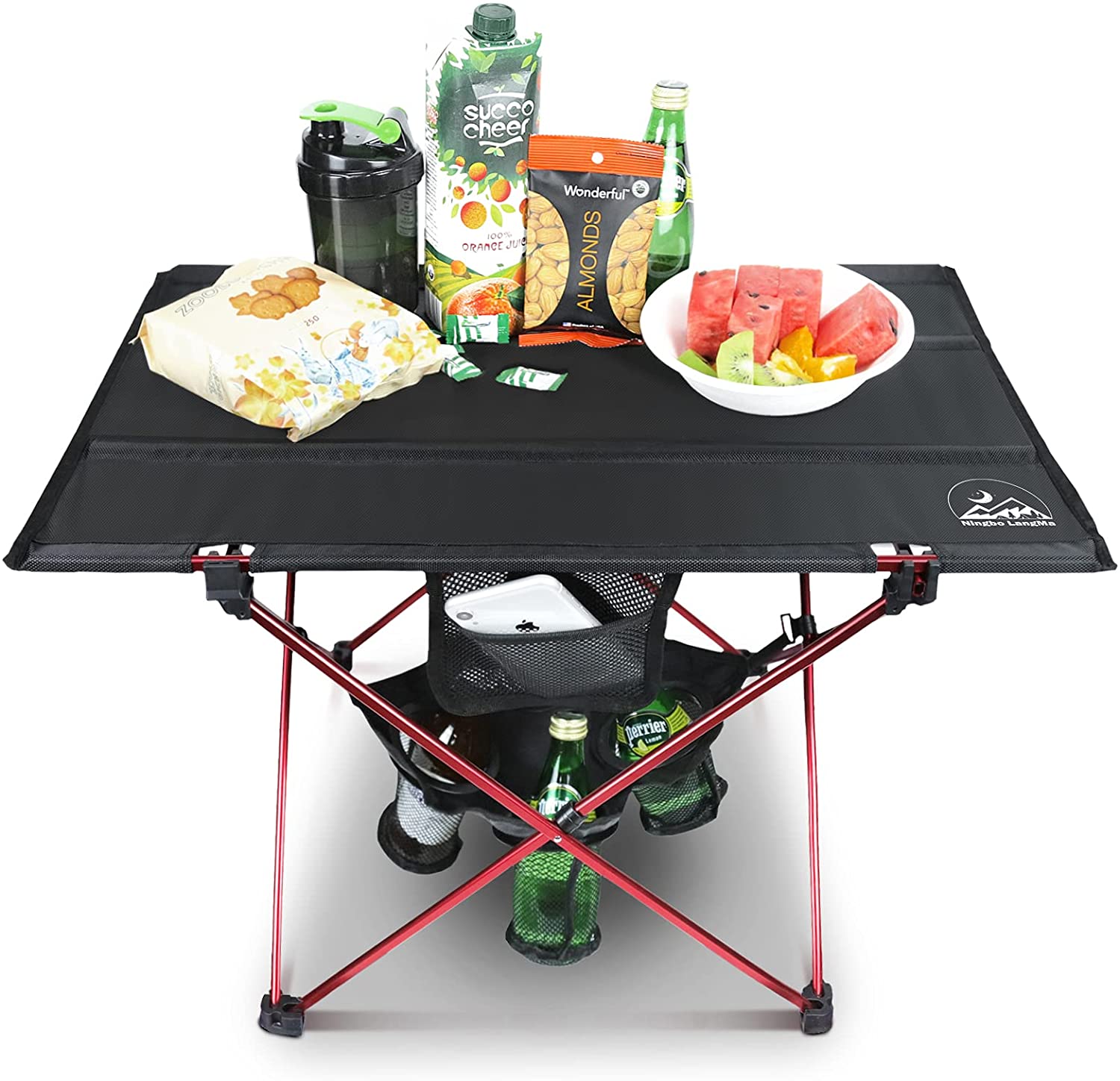 Pros
Great folding camping table with aluminum alloy structure and Oxford cloth tabletop.
Sturdy, portable, and easy to assemble and disassemble.
Loads of extra storage space.
The cloth is waterproof and easy to clean, and the tabletop is a good size.
I'm a huge person on reviews and this one has the best reviews out of all of the ones I've listed. I haven't personally used this one but people seem to love it!
Cons
'Backpacking' style might not appeal to anyone looking for elegance and style, but it's a great beach option, durable and easy to use, with very few flaws!