Packing for a beach vacation shouldn't be a stressful business, and it doesn't have to be thanks to this ultimate checklist for your exotic trip! Discover everything you need to ensure a fantastic vacation and enjoy every minute of your time off.
We've all had a tough time over the past couple of years, particularly when it comes to vacations. But with the world opening up at long last, it's time for an extremely well-deserved beach trip.
The only downside to the first post-lockdown vacation is that you might have forgotten exactly how to pack! We've all probably spent more time than we would care to admit in our loungewear in recent months, and seamlessly transitioning to stylish beach apparel can be tricky!
So now that we are all adults and we can't rely on mom and dad to pack our shorts, socks, and carry-on for us, what are we meant to do?
Fear not! My ultimate beach vacation packing list is here to keep you on the right track and ensure that you've got everything you need in your beach bag for an amazing trip. So without further ado, let's dive right in!
Heads up: Neat Beach is supported by my readers. If you click a link and make a purchase I may receive a small commission. I only recommend tools I have personally vetted.
Beach clothing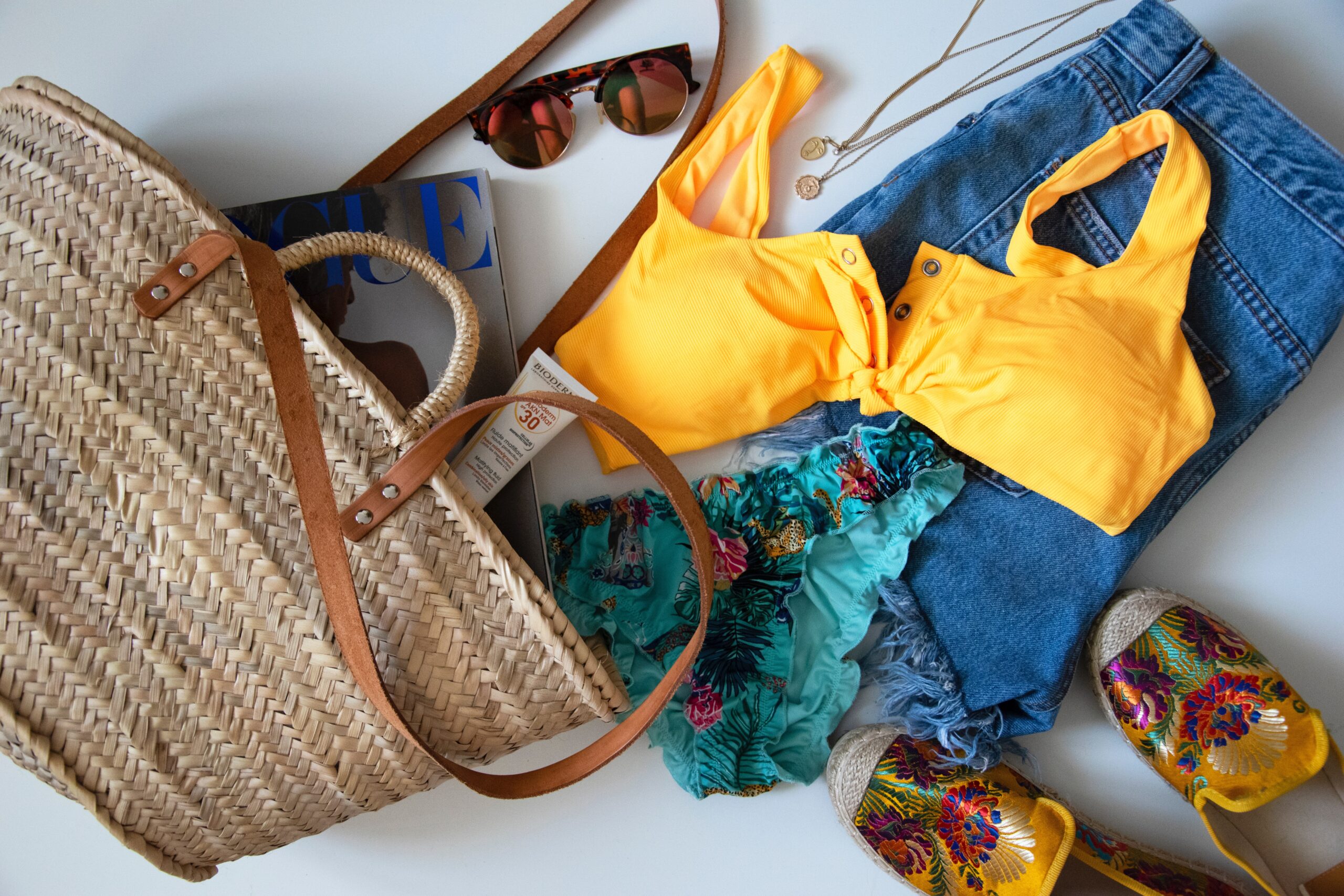 It is incredibly easy to overpack when it comes to a beach vacation. Your days tend to have multiple facets and the temptation is to pack enough separate outfits to account for every situation you might end up in. This usually ends up in a lot of unworn clothes, and not enough space for souvenirs!
But it is also easy to avoid overpacking using a really simple hack and calculation. First up, multiply the number of tops you plan to bring by the number of bottoms, and you'll end up with the number of potential outfits you will have. Then, just ensure that your clothes all coordinate (more or less) and you'll be able to cut waaay back on your packing!
You'll obviously need to add swimwear options. You are going to the beach, after all! For a week-long vacation, you'll need at least two or three bathing suits, to allow them to dry off in between uses. That might sound a lot, but you'll be using them every day, so it is worth being fully prepped.
You'll also want to consider things like exercise clothes (if you want to run along the beach at sunrise or hit the gym), as well as a couple of light layers for the cooler evenings.
Beach Clothing Checklist
2–3 swimsuits
1–2 sarongs, wraps, or coverups
1 rashguard or swimming t-shirt for extra UV protection
1-2 pairs of sunglasses
1 sun hat
4 casual tops (t-shirts, relaxed shirts, blouses, etc)
3 bottoms (shorts or skirts)
1 pair of long pants for nighttime
1 light layer (a sweater or light cardigan) for evenings
1 smart outfit (a fancy dress or smarter shirt with nice pants) for dinners
Socks and underwear
Pajamas
A purse or money belt
Workout clothes
1 pair of flats or sandals for the daytime
Flip Flops for the beach
Water shoes to avoid stepping on urchins or rocks
1 pair of smarter shoes to complete your dressy outfit
Beach gear
Unless you are going to a seriously well-equipped all-inclusive resort, you'll need to bring a reasonable amount of gear for your beach days. And even at the fanciest of resorts, you'll still probably need one or two things just for yourself.
It might sound obvious, but do check with your accommodation in advance to see what they provide! Most hotels, and even most AirBnbs these days, will provide beach towels, and some will be fully stocked with beach chairs, umbrellas, beach tents, and even beach games!
However, you'll still want to put together a stock of beach essentials to ensure you are fully loaded for a day at the beach. The size of the bag you pack will probably depend on the size of your family – a young couple, for example, might be able to survive with just a book, a phone charger, and a beach towel, while if you've got young kids you'll need rather more gear.
This list errs on the side of caution, so feel free to delete as applicable!
Beach Gear Checklist
A solid beach tote, big enough to carry all the essentials you could need
A waterproof Bluetooth speaker so you can carry your tunes wherever you go
A rug, blanket, or old beach towel to sit on
A cooler to keep your beverages frosty (I highly recommend this cooler. It's comfortable, easy to carry, NEVER leaks, and I can fit a ton of stuff in it. I promise you won't be disappointed if you purchase it)
A reusable water bottle
A thermal travel cup (great for cooler mornings AND for keeping your margaritas cold!)
A supply of chips, nuts, chocolate, and other extremely necessary snacks
Plastic reusable knives, forks, spoons, and plates
Your fave beach games. Think volleyball, cornhole, and spike ball
Toys for kids – buckets, shovels, balls, etc..
A good vacation novel (or an e-reader) and some magazines (the Kindle I linked is fairly new. I've had it for a few months and love it. It's a perfect size and is super durable)
A portable battery or power bank so you can keep your devices charged
Dry bags for your valuables and wet clothes at the end of the day
Comfortable folding chairs
Some shade – a beach umbrella or a tent is best, but even a light sarong tied to four poles will do in a pinch!
Beach towels – avoid fluffy bath towels and go for the incredibly light and speedy drying microfiber options
Masks, flippers, and snorkels
Floaties! Everything from a simple tube to a giant inflatable unicorn
Swim diapers and floatation devices for babies and toddlers
Toiletries and hygiene
It goes without saying that you will need to pack your standard bathroom bag with all the basics that you take on any vacation – toothpaste, deodorant, shampoo, etc. But there are a few things specific to a beach vacation that you will want to consider.
Sun protection is key, of course, as is protection from bugs, and it is worth thinking about the fact that you'll be eating al fresco in a sandy location as often as not, so you'll want things like wipes and hand sanitizer on hand as well!
Toiletry Checklist
Reef-friendly sunscreen and SPF products (moisturizer, lip balm, foundation, etc)
Sanitizer
Wet wipes
Face coverings
Aloe vera or other after-sun lotions
Bug spray
A small travel first-aid kit
You should have all your bases covered with this packing list! And if you still haven't decided on where to go, reference the where can I fly site to find affordable flights. And check out a few of my other posts to plan your next beach vacation, like the best shelling beaches in Florida or the best beaches in Florida with clear blue water.