Miami is best known as a party town with bright lights, glamour, and art deco architecture – South Beach being the first thing that comes to mind. But there are plenty of other, amazing offerings along the Miami coastline, with great options for every sort of beach trip. This is especially true for families, with Miami boasting some of the best family-friendly beaches in South Florida.
Avoiding the crowds, volleyball, music, and fiesta-ambiance of the most famous Miami beaches doesn't have to be a chore, and if you want to just enjoy the sun, sand, and surf without too many distractions there are loads of options!
If you are planning a family trip to Miami and would like to spend a few days on the beach, here are some of the best spots where you and the fam can kick back and relax!
Bill Baggs Cape Florida State Park
With a prime spot on beautiful Key Biscayne, the beach at Bill Baggs is a picturesque wonder. With calm, shallow water it could have been designed for little ones to swim safely, while the gorgeous views and laid-back ambiance will satisfy adults looking for a break from the rowdier vibes of South Beach. With a backdrop of attractive rolling sand dunes and the iconic Cape Florida Lighthouse, there's no need to do much beyond laying back and relaxing. But if your family is so inclined there are bike and walking trails, picnic areas, and some great fishing spots. Also worth visiting is the fascinating and eye-catching Stiltsville, a collection of historic houses teetering above the water on stilts, used most famously by bootleggers and rum-runners during the Prohibition era!
Matheson Hammock Park Beach, Coral Gables
If your youngest family members are completely new to the water, Matheson Hammock Park Beach is the perfect introduction. The lagoon is calm, shallow, and protected, a man-made pool fringed by palm trees that is perfect for beginner swimmers. There's not much in the way of amenities at the beach itself – remember to bring your own beach tables, umbrellas, coolers, and chairs – but there are loads to do in the surrounding area too. The park itself is 630-acres and offers some excellent restaurants and snack bars, a marina, a sailing school, and some lovely hiking and biking trails.
South Pointe Park Beach
So, from some of my earlier comments, you might have got the impression that the mainstream Miami beaches have nothing to offer families…but that couldn't be further from the truth! In fact, one of the best family beaches in the area is on South Beach itself! Granted, it is a closely guarded local secret and way down south away from the Spring Break vibes of Ocean Drive, but still. The reason South Pointe Park is such a family favorite comes down to its facilities, including a kids' playground, a splash pool, loads of natural green space, a dedicated dog park, and best of all a frozen yogurt stand! You also get a wonderful view out across the Atlantic Ocean, as well as all the peace and quiet you could ask for, making it a great break from the hustle and bustle of downtown Miami. 
Crandon Park Beach, Key Biscayne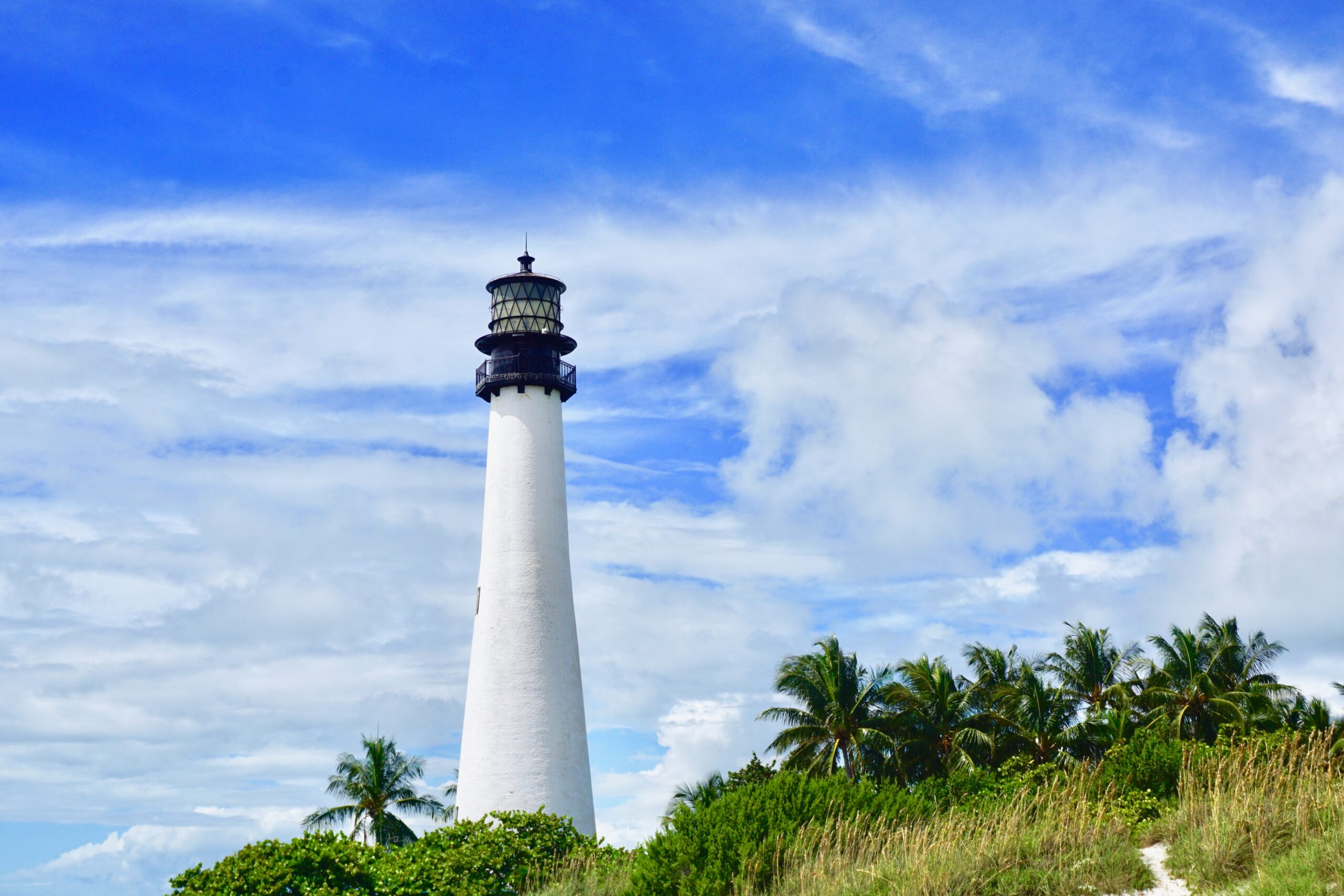 At the opposite end (north) to Bill Baggs, Crandon Park Beach offers a slightly different, although no less appealing, atmosphere. The beach is popular with influencers, film crews, and TV companies who come here for shoots and commercials, which can make it a little crowded, particularly on Sundays. (although great for people-watching!). However, during the week and on Saturday mornings, it is a dream. There are stand-up paddleboard rentals for older kids (and parents!) as well as a tennis court and a golf course, and plenty of shade and picnic tables for the rest of the family to hang out at. There's also a roller-skating area, a carousel, and a playground. There is also the delightful decrepitude of Crandon Park Zoo – no longer housing large mammals, but a haven for native birds.
Virginia Key Beach
For families who love wildlife, Virginia Key Beach is absolutely perfect. Hidden away in a quiet corner of Virginia Key, this is a wonderfully peaceful spot full of nature. Your kids will love the chance to see giant lizards, pelicans, and even manatees in their natural habitat. As a beach, it is also fantastic for young families, with crystal-clear, shallow, calm waters sheltered by Fisher Island, pristine white sand, and some excellent oceanfront trails for hiking and biking. Fans of watersports can hire kayaks and paddleboards at the main outdoor center, and it is worth noting that the only restrooms are located here too.
North Shore Open Space Park
North Shore Open Space Park is a green space at the far north end of Miami Beach and is incredibly popular with families due to its proximity to downtown Miami. Often described as North Beach Oceanside Park, it covers just over eight blocks and includes a children's play area, plenty of tables for picnicking, loads of room for furrier members of the family to play freely, and a number of grills for BBQing. It's a great spot if you only have half a day and want to explore Miami a little at the same time!
Oleta River State Park
Located overlooking Biscayne Bay up in North Miami Beach, Oleta River State Park covers over 1,000 acres with loads of activities for all the family. Although there is no lifeguard tower on the beach, the lack of rough surf means that it is a great option for kids of all ages, and there are loads of non-beach-related activities in the park itself, from mountain biking to canoeing and kayaking. If you feel like extending your beach day you can even rent one of the simple yet charming beachfront cabanas that overlook the ocean, a delightful way to finish off a great family day at the beach! And if you're looking for other beautiful beaches to explore while you're in South Florida, I'd highly recommend checking out one of these Fort Lauderdale beaches or Hollywood Beach on your next visit!