Fort Lauderdale has been one of Florida's most popular vacation destinations for decades now, and for good reason. The city attracts tourists of all varieties with captivating nightlife, unparalleled seafood, spectacular weather and of course, the beaches. Fort Lauderdale Beach is more than a single beach and Las Olas Boulevard. It is a blanket term for a wide variety of great beaches that are all popular for their own individual reasons. Here is a list of the best beaches in Fort Lauderdale to help you plan the ultimate Florida vacation you'll never forget!
Hollywood Beach
Beloved by Broward County locals is Hollywood Beach, the ideal destination for those that are looking to take a family-friendly getaway to Fort Lauderdale in an effort to relax and avoid the fast-paced nature of everyday life. Just bring your family, a large beach towel, some lunch and sit back, catch some rays and look out at the clear blue water that this Florida beach is known for. 
Beyond the sand and the water, the main attraction at Hollywood Beach is the famous North Boardwalk. Hollywood is one of the most famous boardwalk beaches in all of Florida and for good reason. This 2 ½ mile stretch of concrete, coined "The Broadwalk," due to its immense width, hosts many beachfront bars and restaurants, boutiques, ice cream parlors, live music, and much more. After a long day in the sun, there is no easier way to find souvenirs or refreshments. However, if you were planning on just enjoying the scenery, there are a variety of transportation methods that have their own designated lane on the side closest to the ocean. If you're interested, you can rent low-riding bikes, or bring your own bikes, rollerblades, longboards, or anything else that may tickle your fancy. 
Hollywood Beach also hosts a wealth of beach necessities including picnic tables, basketball courts, beach volleyball courts, a nearby concession stand, readily available garbage cans and much more that boosts the quality of life at this particular beach. The only things to keep in mind are parking, which gives you access to an immense parking lot for a small fee, and lifeguard towers are only staffed from 9:45 a.m. to 5:00 p.m.
Pompano Beach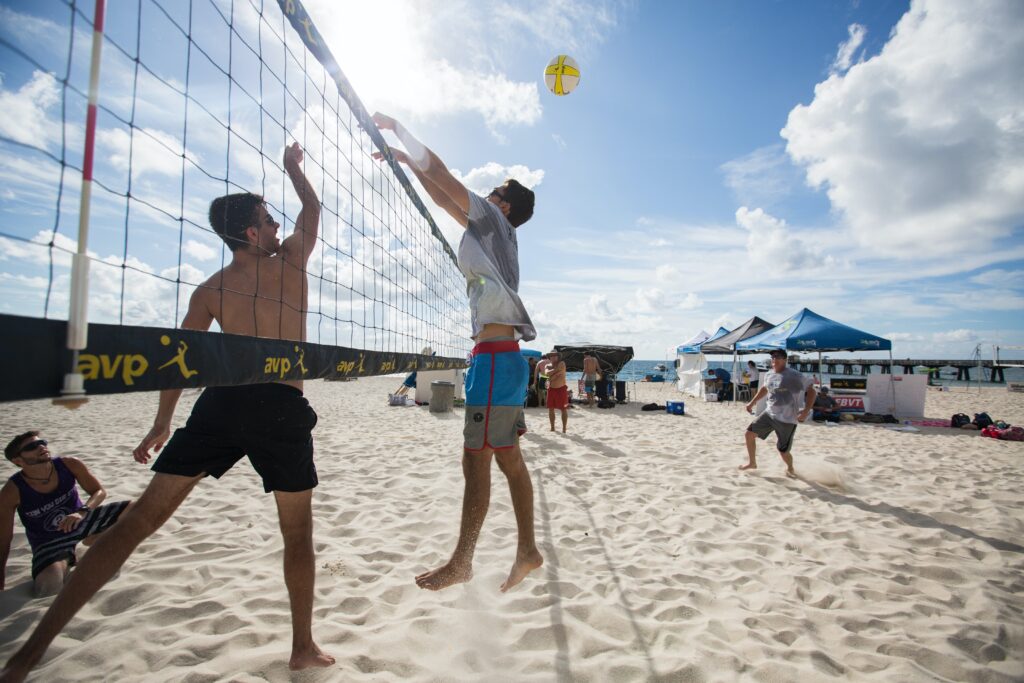 In the Southern portion of the greater Fort Lauderdale area is Pompano Beach. Although it's a great beach for leisure and day drinking, Pompano Beach primarily attracts beachgoers that are looking for a hands-on experience with the lush marine life that inhabits the shallow Atlantic Ocean. Hosting just under 20 shipwrecks off the coast, Pompano attracts divers from all across the globe to come and explore the coral reefs that have conquered the ruins.
Scuba and snorkeling tours in the area are well-established and seen as some of the best available in the entire state of Florida. Thanks to the Gulfstream that flows just off of the Atlantic coast, many tours offer what is called Drift Diving. Drift Diving is convenient for experienced divers as well as a good ground for learning for newer divers. Rather than freely diving or snorkeling around a reef with no direction, divers are encouraged to freely explore but maintain a general drift from North to South which will come naturally due to the strong ocean current. Drift Diving is a less stressful experience and allows divers to observe more reef than they would free diving as the boat that drops you off will transition to the South to pick you up. No need to stress about wandering off too far.
For those looking for a less submersive experience, the fishing charters located in the area will give you a chance to witness the beautiful water and encounter ocean life without ever having to leave the safety of the boat. These charters will either take you out onto the reefs or far beyond to participate in deep sea fishing, to catch famous fish including sailfish and mahi mahi.
Beyond the waters, Pompano provides visitors with big-city experiences with a small-town atmosphere. Indulge in incredible oceanfront restaurants, some of Florida's best golf, luxurious shopping, and so much more.
Dania Beach
Located just South of Port Everglades and North of Miami Dade County is the famous Dania Beach. Coined "Broward's First City," a destination that is suitable for those that are seeking a Fort Lauderdale Beach vacation to enjoy both the city and the beach equally. The beach has all of the essentials including water sports, luxury hotels, and a fishing pier. The city is the main attraction here, and the beach is a perfect way to spend your downtime between restaurants, shops or museums. However, if you are looking to reconnect with nature in Dania, it is highly recommended to visit Dr. Von D. Mizell-Eula Johnson State Park.
This mouthful of a state park is home to campsites, hiking trails, boating and fishing and is best visited during the beginning months of fall. The rainy season is long gone, temperatures are dropping but still moderately warm and this is the perfect time of year to catch a glimpse of the thousands of birds that migrate south.
As for the city itself, it is home to the famous Wiener Museum of Decorative Arts. This museum has exhibits that are composed of eloquently crafted ceramic and glassware that is sure to leave visitors stunned. These pieces greatly vary in size, shape, and intricacy and are constantly circulated to keep the touring experience fresh. If decorative arts does not sound like your forte, head to their website where they offer digital tours so visitors can have an idea of what to expect before visiting. The virtual tour will make your jaw hit the floor, words really cannot explain how beautiful these handcrafted pieces are.
The Ft. Lauderdale Beach area is much more expansive and beautiful than the average visitor believes. The beaches mentioned only scratch the surface of all of the nooks and crannies that lie within this popular South Florida town. Find the perfect beach for you! Rest and relaxation await you.