Not all Florida beaches have the party atmosphere of Miami Beach. While buzzing beachfront boardwalks and vibrant beach bars are a huge part of Florida's beach culture, the state also boasts a wide variety of beaches that offer a more relaxed, secluded, and even private ambiance.
Secluded beaches can be found in the length and breadth of the sunshine state. From peaceful barrier islands on the Gulf Coast to tiny paradise islands in the Florida Keys. Wherever you end up in Florida, you'll find something private, romantic, and just for you if you look hard enough.
These nine beaches are some of the best-hidden gem private beaches found in Florida. So next time you are planning a Florida getaway, avoid the beach resorts and Spring Break vibes of South Beach and find ultimate relaxation and tranquility and some of the best beaches for privacy and calm in the state.
Vilano Beach in St. Augustine Florida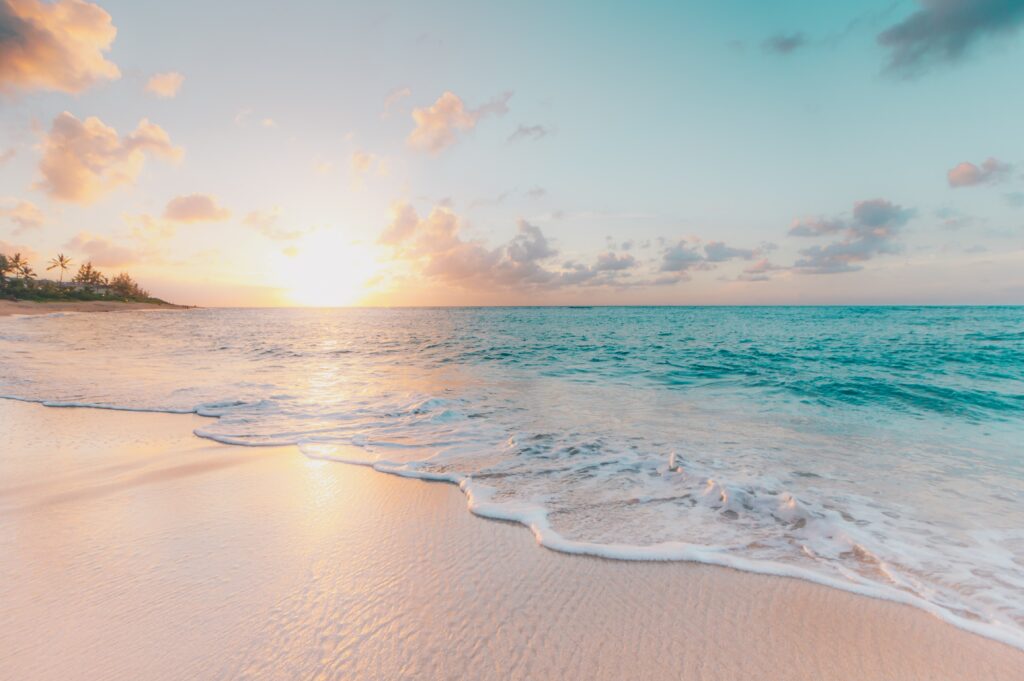 Just outside St. Augustine lies Vilano beach, a picturesque little stretch of sand hidden away from the crowds who come to see America's oldest city. North of Anastasia State Park and the Matanzas inlet, Vilano Beach offers a slightly wilder, more Atlantic experience than the more popular, family-friendly beaches south of St Augustine, along with some decent surf breaks. But it remains a gorgeous spot and genuinely overlooked, making it perfect for privacy, peace, and quiet.
Longboat Key, Florida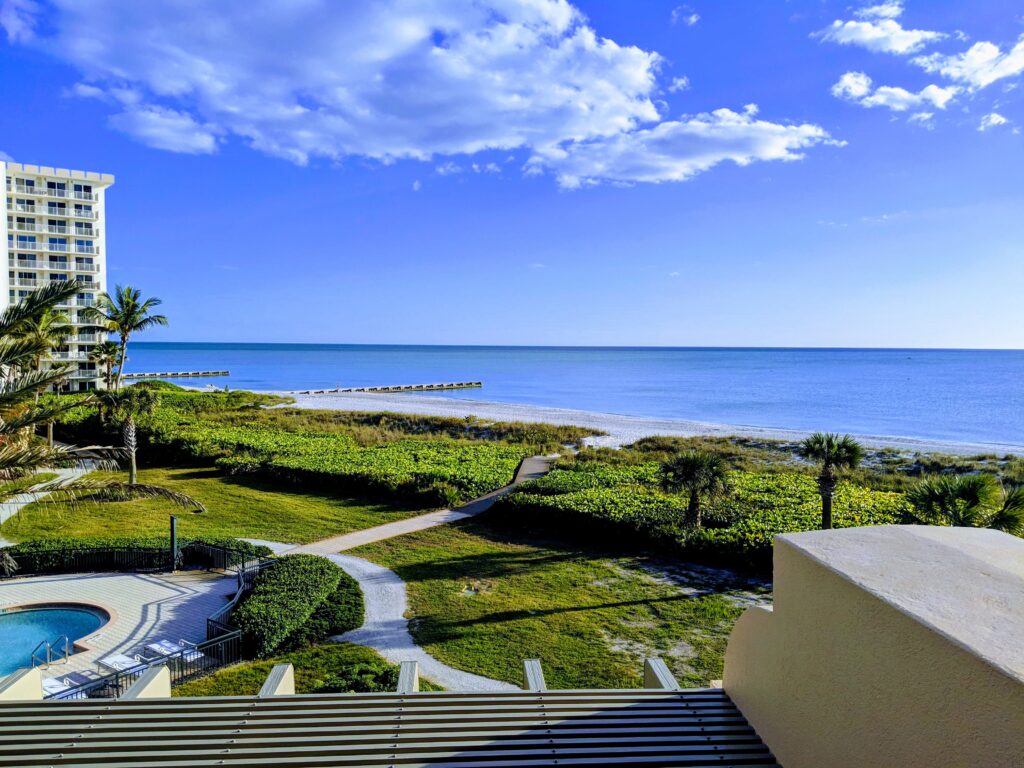 While the neighboring island of Siesta Key is (in)famous for its MTV Spring Break parties and enormous vacation crowds, Longboat Key remains a far quieter, off-the-beaten-track spot. Just south of the ever-popular St. Petersburg and a stone's throw from Sarasota, Longboat Key offers picture-perfect views of the Gulf of Mexico and some truly stunning sunsets, as well as smooth white sand and calm blue waters with zero current.
St. George Island State Park on St. George Island
Hidden away on Northwest Florida's aptly named Forgotten Coast, St George Island State Park is an untouched gem that is as serene as it is beautiful. Although inhabited, it remains pristine, with miles and miles of ivory-white sand beaches backed by rolling dunes and picturesque marshland full of animal and birdlife. The crystal-clear waters of the Gulf make it a great spot to swim and sunbathe, but there are plenty of other activities to keep you busy, from snorkeling and kayaking to trekking and birdwatching. Strict zoning laws have kept the oceanfront development here to a minimum, ensuring that it remains unspoiled and uncrowded, perfect for a private getaway.
Canaveral National Seashore, Titusville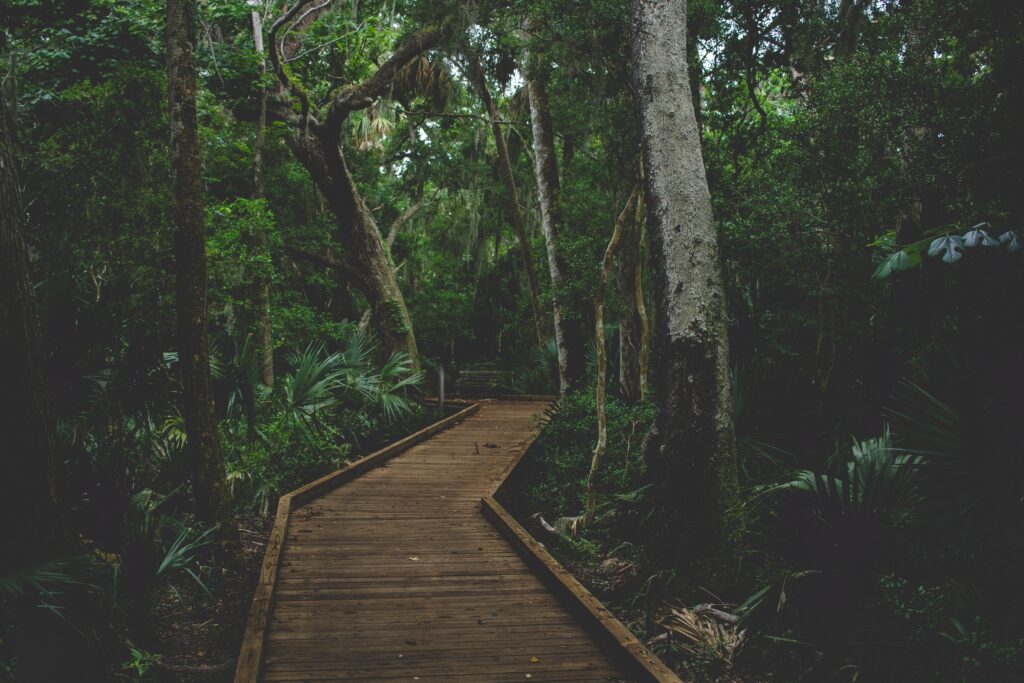 If you are looking for privacy on vacation, you can't go wrong with a beach inside a wildlife sanctuary. Canaveral National Seashore boasts 140,000 acres of a protected reserve for native wildlife, including five species of nesting sea turtles who call the wide stretches of gorgeous beach here home. The seaside is untouched, out-of-the-way, and often completely deserted, making it a wonderful place to relax and get back in touch with nature. The Florida coastline here is completely undeveloped, and you'll find you spend as much time marveling at the natural beauty and fascinating wildlife inland as you do laying on the beach. As an exciting bonus, you might even catch a glimpse of a rocket launch from Cape Canaveral while you are here!
Caladesi Island State Park
There aren't many uninhabited barrier islands left in Florida, and this unbelievably beautiful spot just off the coast of Clearwater might be the best of them. Only accessible by water via the Caladesi Island Ferry, Caladesi Island State Park offers three miles of perfect white sand, extraordinarily clear water, and not much else. And that includes people! Its remoteness means it is perfectly possible to see no one else while you are here, as the crowds flock to Clearwater and Sand Key Park. Sit back, take a breath, and enjoy the solitude. If you are lucky, you might be joined by a few dolphins frolicking off the coastline, but that's probably about it!
Pass-a-Grille Beach in St. Pete
Visitors to Tampa looking for a beach vacation tend to head to St Pete or Clearwater, and understandably so. These are some of the best beaches on Florida's Gulf coast. But for those in the know, the true beauty of this part of the world means turning left, away from the excitement of St Pete Beach, to the beautiful, historic district of Pass-a-Grille. Here you'll find a quiet, old-fashioned beach community where local fishermen cook freshly caught fish right on the sand and the vibe is entirely Old Florida.
Lovers Key State Park
You'll find more birds than people on Lovers Key, the largest barrier island in the Lovers Key State Park. With two miles of pristine sand, excellent bird watching opportunities, and warm, gentle Gulf waters, Lovers Key is the best beach in the Fort Myers area. It is also a haven for shell collectors and is usually full of perfectly preserved seashells washed ashore by the soft waves coming in from the Gulf of Mexico.
Gasparilla Island
Tucked in between the popular hotspots of Sanibel Island to the south and Sarasota to the north, Gasparilla Island has managed to stay impressively under the radar. There's not much here beyond peaceful hidden beaches and classic South Florida natural beauty, but it is absolutely worth the visit. The island's only town, Boca Grande, is charming, and worth exploring for the pastel-colored beach houses and superb seafood restaurants.
Perdido Key Beach in Pensacola, Fl
Perdido Key is directly translated from Spanish as 'Lost Key', which perfectly sums up this delightful barrier island near Pensacola in the Panhandle, right on the state border between Alabama and Florida. Separated from Pensacola by the Tarkiln Bayou Preserve State Park it is a secluded gem, hard to find but well worth the effort. You'll be greeted by pristine sand beaches and sparkling green water (hence the Emerald Coast name), as well as miles of nature reserve with some unusual wildlife like the tiny Perdido Key Beach Mouse, nesting sea turtles, and wide-winged Anhinga birds.