Located along the famous Esplanade in San Jose just 60 miles south of San Francisco is the classic west coast vacation destination, Capitola Village. Despite lacking the flashier elements of other famous California beaches, Capitola remains one of the most popular beaches throughout the state thanks to a great community, frequent events and the immense relaxation that can be experienced in the area. Here is why Capitola has to be near the top of your California destination list.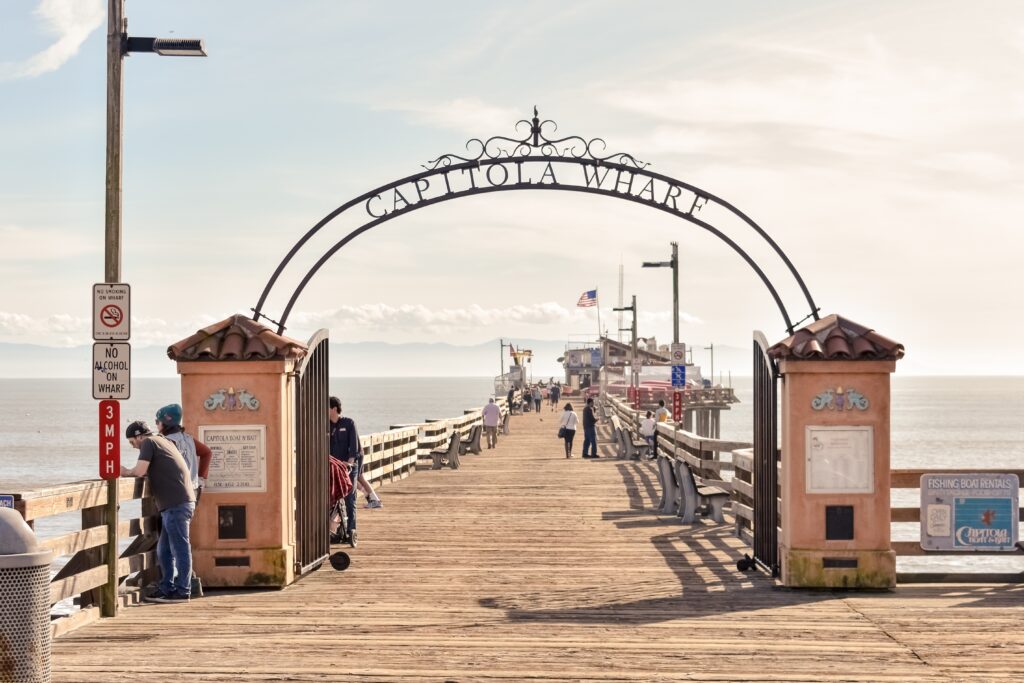 Capitola Wharf
Located in Santa Cruz County, The Capitola Wharf boasts many of the attractions that bring tourists to the west coast for some downtime. Primarily, the wharf serves as the optimal beach grounds for fishing and surfing, which are both regional favorites. The wharf particularly serves as an excellent training ground for new and novice surfers as the water has consistently small ripples that allow for proper practice of mounts, balance, and other surfing fundamentals. If surfing seems like a daunting new hobby, the wharf offers other beach activities that are less skill-dependent, primarily kayaking.
For those looking for something a little less physically involved, the Capitola shores serve as a fantastic backdrop for many excellent onshore resorts and restaurants. Grab a bite or a drink at one of the many established beachfront bars and restaurants that feature amazing ocean views and allow you to look out into the horizon to see new surfers who look like deer on ice. You may even get to see some migrating dolphins or whales if you are lucky!
Local Events
Local events are exactly what keep the Capitola Beach experience fresh on a weekly basis. If you are visiting the area it is essential to look up an events calendar to make sure you do not miss out on a number of local favorites. A majority of the events are held on a weekly basis over the summer months so it is highly recommended to travel to the greater Santa Cruz area at that time.
Primarily, you are going to want to check out who is on the lineup for the Capitola City Beach Twilight Concert Series. On Wednesday nights during the months of June, July and August, concerts can be attended for free at Esplanade Park which is very close to Capitola Beach. Be sure to bring a towel, some chairs, some snacks and proper dancewear in order to fully enjoy the live music on the beach during the beautiful hours of sunset.
Art and Music By the Beach
Another local favorite is art and music by the beach in Capitola Village. Atop a beautiful seacliff in Esplanade Park overlooking the Monterey Bay, this weekly event on Sundays allows visitors to walk around freely and witness the incredible local talent that showcases their efforts in a fun and inviting festival setting. This free event allows visitors to view and purchase incredible art created by the local scene, and you will have numerous options for incredible souvenirs. With artwork including paintings, photography, jewelry, and many other forms of mixed media, there are a number of different ways to make sure you go home with a piece of Capitola Beach in your pocket.
The final suggestion is to travel to Capitola Beach during one of their two festival weekends. Arriving during the latter proportion of Summer, the art and wine festival and beach festivals draw in people from around the country to partake in the festivities.
Capitola Beach Festival
The Capitola Beach Festival is widely recommended as it is a community event that fully encapsulates the enjoyment that can be had on nearby beaches before the colder months of winter begin to set in. Hosting a fun run, a horseshoe tournament, a parade, fishing derby, and much more, it is now easier than ever to get in touch with the local people and become involved in the community. Bring the kids and get to know the area! This is an annual event that you cannot afford to miss.
Brighton State Beach
For those seeking a tranquil and isolated beach experience to better connect with nature, Brighton State Beach is an absolute must. The water in this beach is calm and peaceful, similar to the rest of the area making this beach the ideal spot for an afternoon swim. However, what separates this location from others in the area are the lush live oak and Monterey Pine tree forests that host incredible hiking trails and campsites.
The forest offers a variety of trail difficulties and campsites that appeal to anyone ranging from indoorsy to dedicated survivalists. It is a worthwhile trip for either a great afternoon beach day or an entire weekend of living out in nature.
Brighton Beach also offers a Capitola Historical Museum that allows for education of the areas indigenous people and other important elements of the natural history. This is a must for any history buff or really anybody that can appreciate the importance of knowing lesser-known American history.
The Capitola Beach Area is widely recognized throughout the state to be one of the most relaxing vacation spots that California offers. Whether you are visiting by yourself or with your family, for a couple of days or a couple of weeks, for the camping or for a beach house, Capitola Beach is guaranteed to have something for you. Just be sure to have a game plan before going and to check the online calendar for recommended events and festivals. The beauty and relaxation of California life are awaiting!