Details:
Free
No parking lot – you have to find street parking
Highlight – The pirate tower
Victoria Beach is one of the West Coast's best-kept secrets as many that visit California are oblivious to its existence. Boasting beautiful rock structures and man-made beach amenities, this hidden beach has it all for those that are looking for a relaxing getaway full of activities but lacking dense crowds. Here are just a few of the countless reasons why you should prioritize Victoria Beach on your next trip to sunny Orange County.
Accessing the Beach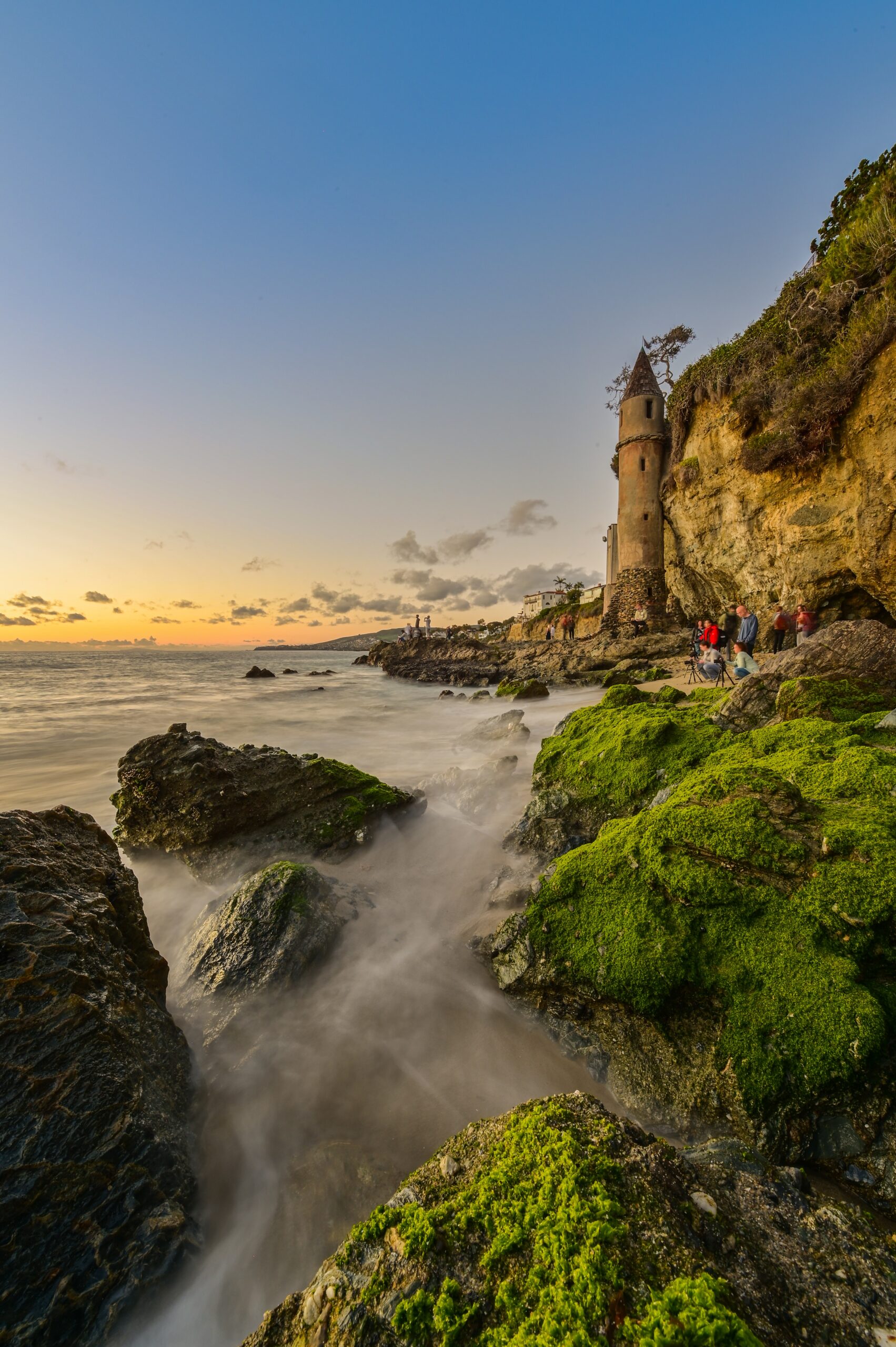 With no parking lot hovering directly over the beach, it can be fairly tricky to locate this beach which is the primary reason why not many people select this spot as their relaxation destination. At the cost of convenience, all it takes is metered parking along the Pacific Coast Highway and a few hundred feet walk along Victoria drive to access the steps that lead to the surf and sand below.
Once you are on the beach it is important to note that there are no lifeguards on duty as well as no public restrooms or other amenities. However, if an emergency does occur during your visit, there is a ramp for emergency vehicles that have direct access to the beach so it is not as if there is no safety to be accounted for. However, as soon as you step foot on Victoria Beach you will understand where the fame stems from. You will be secluded and able to enjoy the beach at your own pace and leisure, even with your furry best friend since this beach is pet-friendly!
Down by the Water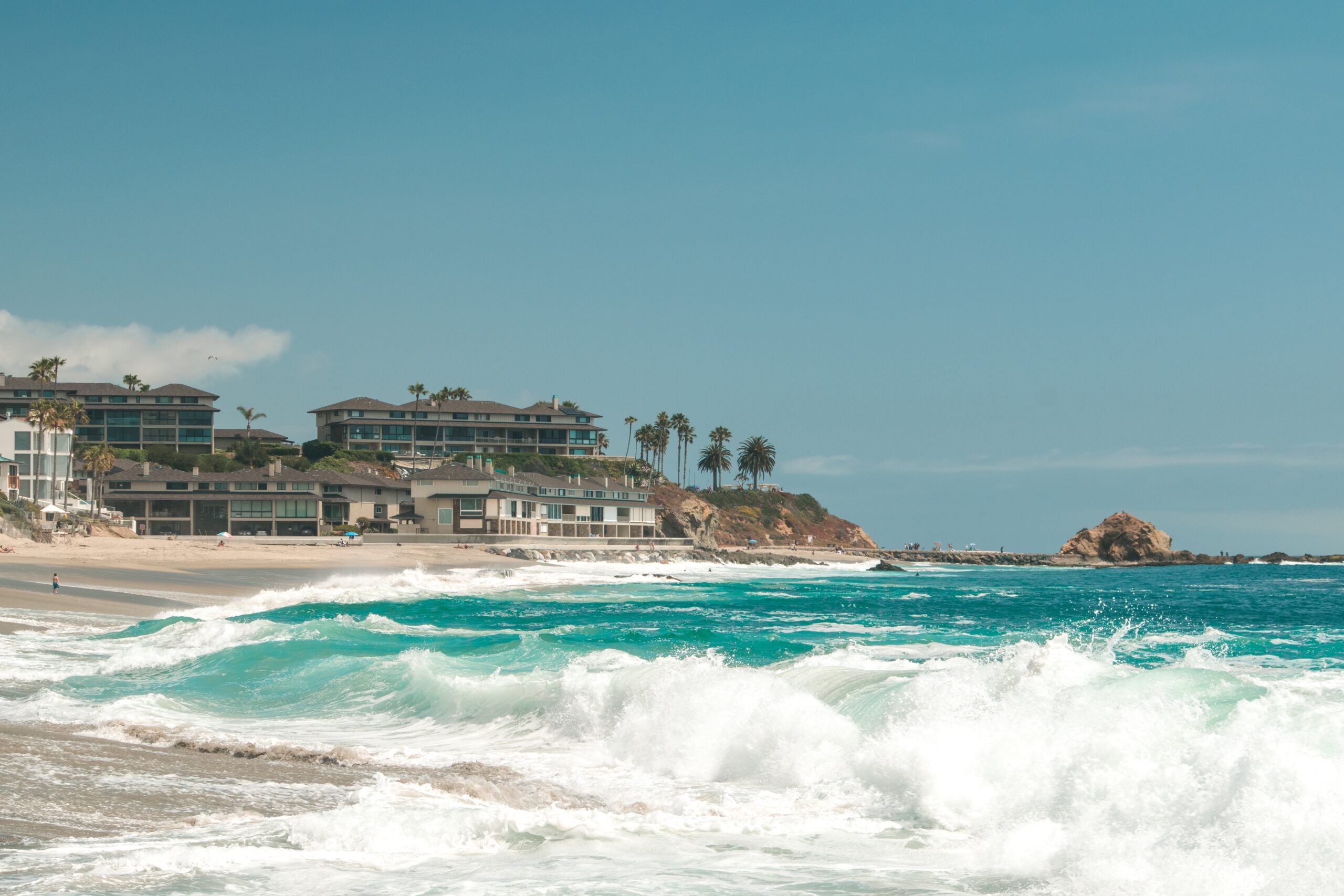 In terms of activities that are available, Victoria Beach has plenty to offer. Although the west coast classic activity of surfing is an obvious option, it is highly recommended to give skimboarding a shot. Skimboarding is similar to surfing, however, skimboarders utilize a smaller and more thin board in order to glide across the waves that have already crashed along the shore. This activity is highly recommended because it is incredibly friendly to beginners (you do not even need to know how to swim) and  Victoria Beach is seen as one of the founding areas for the sport. World-famous skim brand Victoria Skimboards even named their brand after this beach!
Very similar to El Matador State Beach, scuba diving and snorkeling are very popular activities in the area. Although lacking the lush and expansive kelp forests and the adrenaline-inducing underwater caves, Victoria Beach offers weaving underwater rock structures that are home to beautiful and unique wildlife. The biomes available to explore make for an excellent environment for novice divers and the area even acts as a spectacular ground for snorkeling as the water in the area is unbelievably clear and moderately shallow. You do not need to be swimming in the depths to witness the beauty that the Pacific Ocean has to offer. Just be sure to always venture out with at least one other person to ensure your safety and wear a wetsuit as the Pacific Ocean is way colder than the Atlantic!
Expanding on the local wildlife, this beautiful beach is also renowned for the tide pools that appear along the shore during low tide. For those that like seeing aquatic life but do not have the equipment to explore the open ocean, you can explore the tide pools to discover and gently handle various species including shellfish, urchins, and much more. There is also a man-made pool that is filled to the brim during low tide making for a unique beach experience. Step in, relax and look out at the spectacular oceanfront view from the comfort of a pool that cannot be found anywhere else. 
It is impossible to discuss Victoria Beach without bringing up the famous Pirate Tower. This sixty foot tall mysterious tower protruding from the sandstone mountainside is a Laguna staple as visitors stare in awe at what appears to be a historic pirate lookout. Despite its mysterious and ominous appearance, it was actually utilized as a simple staircase by Los Angeles senator William E. Brown once he gained an affection for painting. In his downtime, he would use the pirate tower to waltz on down to the ocean and paint the ocean view in all of its glory. Nowadays the tower is unable to be accessed by the public as the entire structure is kept under lock and key. Despite simply being a visual attraction, every year, visitors are drawn to the beach for the chance at getting a glimpse of the now famous pirate tower. If you are able, try to view the tower at high tide, the view with the crashing waves is unparalleled.
The possibilities on the Victoria Beach shores are endless for aquatic enthusiasts as the waters are also home to gentle enough surf for those that are eager to kayak, stand-up paddle, or boogie board in the open ocean. Doing so is remarkably peaceful and will offer a chance to view the aforementioned pirate tower from an angle unavailable to most visitors. Even if you plan on doing nothing but stay on the sand, there are beach volleyball courts that are publicly available, or even just a stroll down the coast will be enough.
Ultimately there is no bad way to spend your time at Victoria Beach. It may be a pain to actually get there, however, the reward is more than worth the effort. There is an attraction for everyone and anyone, and the secluded nature of Victoria Beach will allow you to properly enjoy your time and spend it however you may please. For those looking for a similar adventure on the east coast, be sure to check out Grayton Beach State Park or Caspersen Beach!