Florida is famous for the many beautiful beaches located across the countless miles of coast the state has to offer. Beyond the sand, surf, and sensations that scatter the shore, there are remarkable ecosystems and wildlife that inhabit the depths that are out of reach for the average beachgoer.
Much of this other world can be discovered by beachcombing or scouring the shores during low tide to unveil relics from beyond the waves. Many beautiful oceanic objects can be stumbled upon by lucky visitors such as sand dollars, tulip shells, conchs, and lightning whelks. In this article, you will discover a variety of different beaches that offer different shelling experiences to fill your pockets with the wonders of the water. And shelling is the perfect beach activity for kids too, so read on if you're looking for some epic spots to take your kids!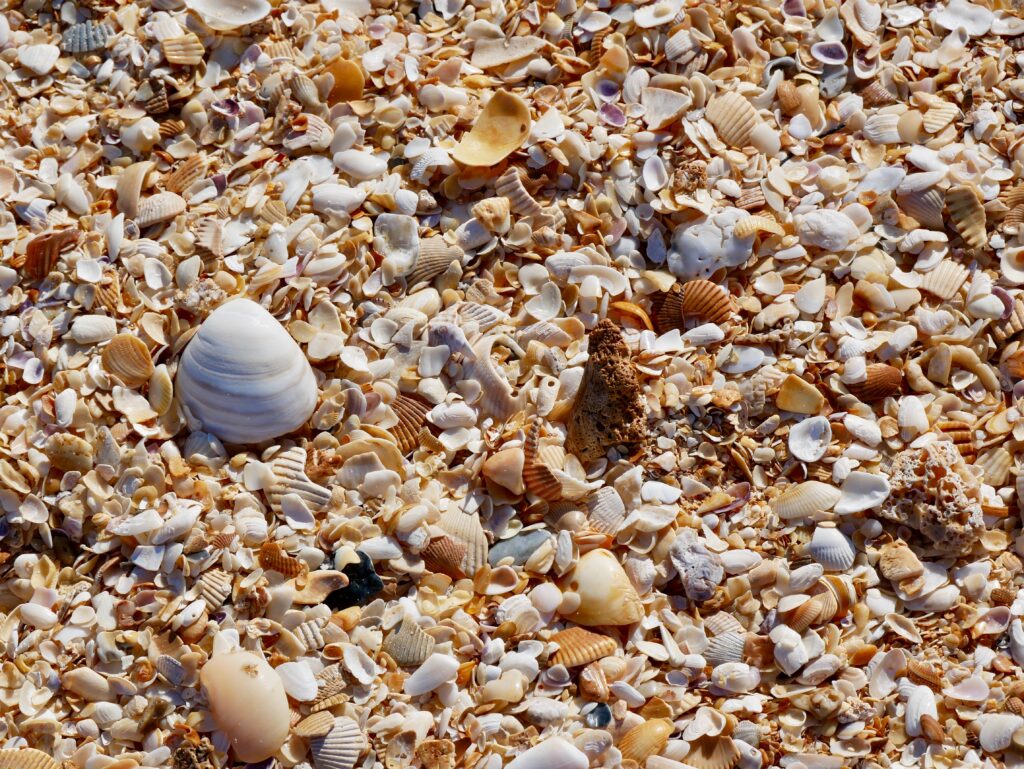 Heads up: Neat Beach is supported by my readers. If you click a link and make a purchase I may receive a small commission.  I only recommend tools I have personally vetted.
How to Shell
What to Bring
In terms of how to shell, there are certainly a few things to consider. Most importantly, wear waterproof shoes. For every beautiful, fully intact shell that you come across, you will also find thousands of broken shells that can become very sharp and can seriously injure your foot. Proper footwear also allows you to walk long distances without experiencing any lower back pain or sore feet, which is a common complaint of those who embark on long beach walks.
The pair I use and would recommend are these ones from Barerun. They're waterproof, super comfortable, they dry really fast, and offer some great protection.
Additionally, it is highly recommended to bring a bag to safely stash your finds. A net bag is ideal as it allows water still to simply trickle out rather than pool at the bottom, like it would with a plastic bag or bucket. Buckets should be generally avoided if there is a better alternative as the harder surface will break shells that you will quickly discover can be incredibly fragile.
I found these mesh bags on Amazon the other day and they really are perfect!
Legal Considerations
There are also a few legal aspects to consider when shelling. Florida values all of its state parks and natural tourism attractions, therefore taking shells should be done in moderation to ensure the renewable nature of seashells. In terms of living artifacts you may find,, they ALL are illegal to take with you. This includes live clams, scallops, and cockles as well as other wildlife such as hermit crabs, sand dollars, sea urchins, and starfish. If it is alive, do not kill the creature for the sake of a souvenir. Careless beachcombers can be drastically detrimental to the environment, be considerate of what you take home so you are able to enjoy shelling beaches time and time again.
Sanibel Island and Captiva Island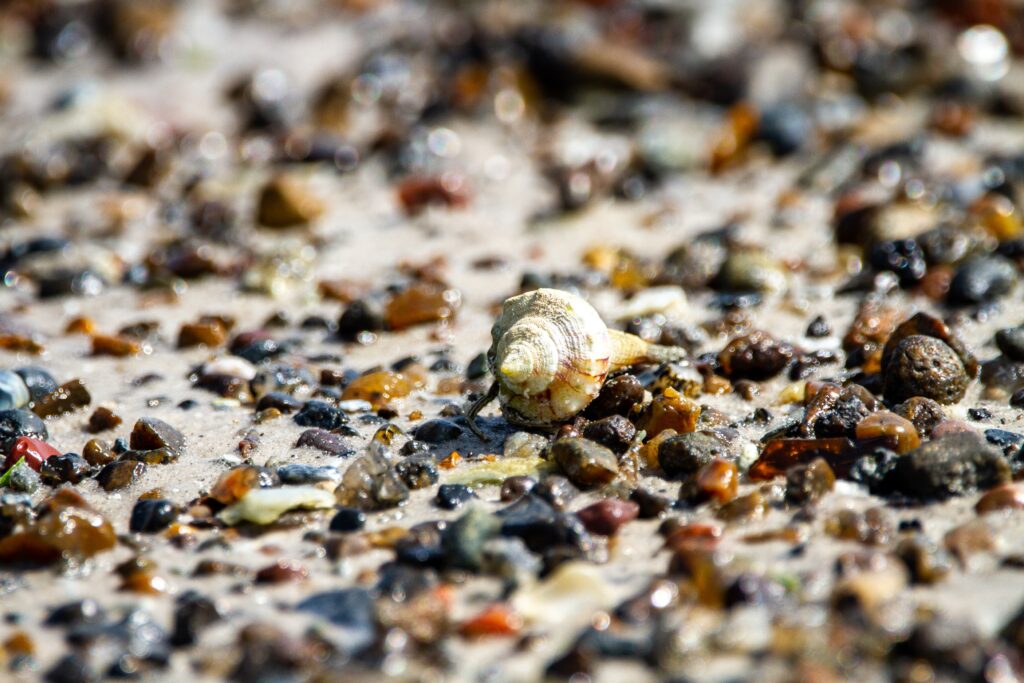 For the ultimate shelling experience, you should undoubtedly visit the small but rewarding shores of Sanibel Island and Captiva. Both islands are located off of Florida's southwestern coast near Fort Myers and are renowned for shelling across the entire globe. Beachcombers from all corners of the world travel there to discover the many shells on the beach. Sanibel Island and Captiva Island are so famous for shelling that the stance someone makes when they are hunched over and raking through shells with his or her fingers is commonly coined "The Sanibel Stoop." Some hotels in the area even provide tables and sinks specifically for cleaning the wonderful finds you may come across throughout the day. The beaches that are located near the islands' lighthouses are highly recommended as the best shelling spots.
What makes Sanibel Island one of the best shelling beaches is actually the way the ecosystem works just beyond the waves. The shallower depths are surrounded by an underwater shelf which makes for a perfect environment for a variety of shells including fighting conchs, scallops, tulip shells, and cockle shells. As the shellfish continue to live on the layer of coquina, a limestone composed of broken shells that coat the seafloor is gently washed to shore and exposed at low tide. Even pieces of coquina wash up to shore which makes for an excellent souvenir if you are aware of what it is.
Sanibel Island and Captiva Island are perfect for those seeking a secluded shelling experience in the Atlantic that strays from the often hectic nature of Florida's mainland. There are many relaxing resorts to select from that cater to your more specific needs.
Marco Island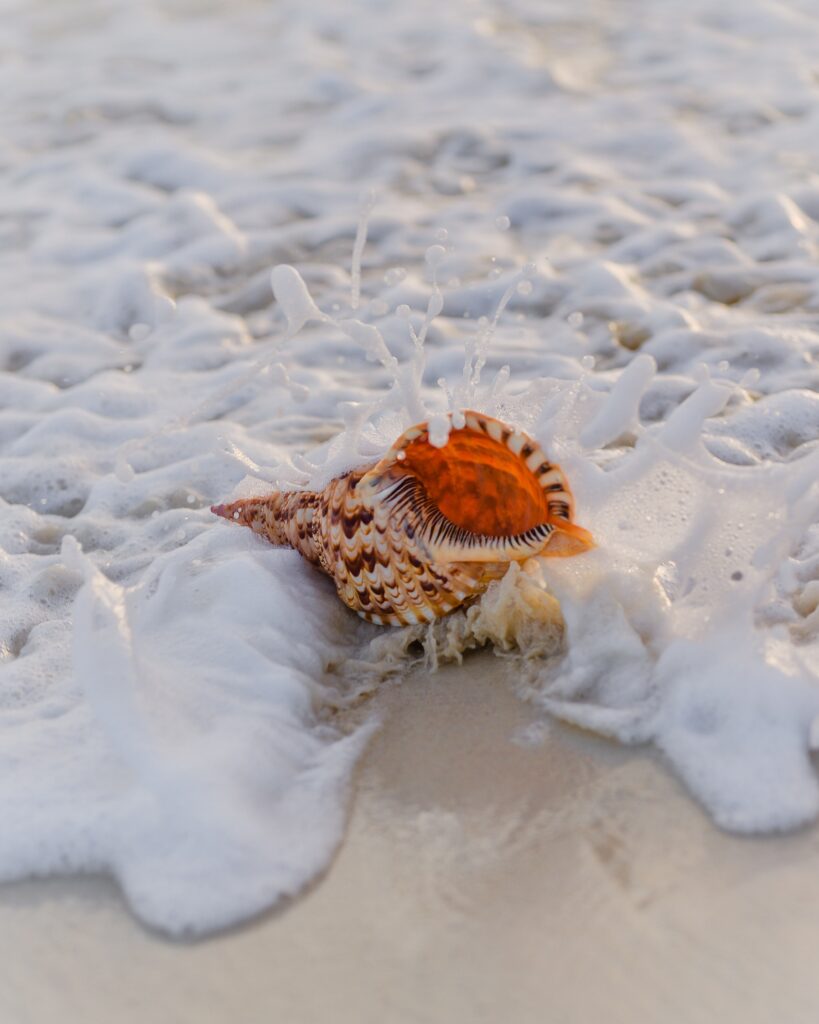 Located near Naples on Florida's Gulf Coast is another fantastic shelling beach, Marco Island. Marco Island is the only developed land in Florida's Ten Thousand Islands. With an incredible amount of resorts and individual beaches to choose from, Marco Island is the best shelling experience on Florida's Gulf coast.
With incredibly clear water and a variety of sea life that greatly differs from Florida's opposing Atlantic coast, Marco island boasts a highly notable shelling experience. Some wildlife you will encounter in this area include conch shells, Junonia, Florida worm shells, Augers, Olives, and even shark's teeth. 
Of the many great shelling beaches within the land of Marco Island, the one you need to ensure gets checked off your list is Keeywaydin Island. Keeywaydin Island is not accessible by any means other than boat or ferry which offers a secluded experience with mostly unbothered shore to discover incredible shells and corals.
The Hemmingway Water Shuttle is likely to be your most reliable way across to the tucked-away island. On your way, be sure to meet the captain that has worked the shuttle for years, Captain Riley. Captain Riley is not actually a captain but rather an adorable 6-year old labradoodle that frequently enjoys rides across the gulf. Peer over the edge of the ferry in order to get a glimpse of other oceanic life you will not encounter on the shore such as dolphins and manatees.
Cedar Key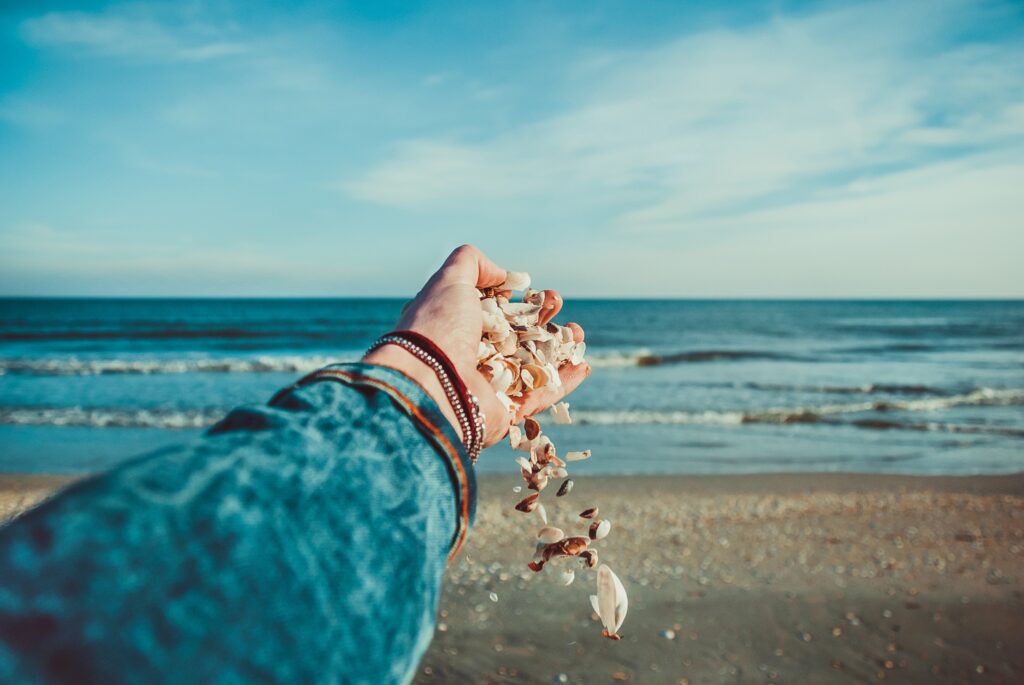 Cedar Key is not actually located in the keys but is rather a small cluster of islands right in between the cities of Tallahassee and Orlando in the Gulf of Mexico, near the panhandle. These are some of Florida's best beaches because they are not very well known and less likely to be overly crowded.
Cedar Key has some of Florida's most untouched natural destinations and many great shelling beaches can be reached by the common beachgoer. There is much to discover if you have, or are willing to rent, a small pontoon boat. Out in the open water among the many reefs and other habitats, you will find natural oceanic shelves that protrude from the ocean and create sand bars that you are actually able to walk on and sift through for shells.
This experience would be more for the live shell enthusiasts as many incredible shellfish and other mollusks can be found very much alive and away from human contact. It truly is an unreal experience to go out into the water and see the shells that you have grown up seeing in gift shops but in their natural habitats. Of course, for the most part this would be more of a catch and release scenario, but the vacant shells that you are able to find out there will be entirely undisturbed and intact. This destination is for those shellers who prefer quality over quantity.
More accessible and attached to the shore of Cedar Key's many islands are a series of tidepools that can be found at various points of the day. A tide pool appears during low tide and is essentially a micro-ecosystem that is landlocked and the creatures and shells within the small body of water are easily accessible to those simply walking down the beach. Inhabitants of these pools vary from vacant shells, shellfish, fish, octopi, and many other spectacular creatures. Since the tides recede and return to high tide, the oceanic life within these pools changes consistently making for a different experience every day. To catch these tide pools you have to go early in the morning, around 9:30 or so.
Pick the Proper Shelling Experience for you
Within this article, there are many great Florida beaches to choose from and they all offer something different to Florida tourists. Every sheller has a different definition of what would be their perfect beach find or their perfect shell island, so it is important to know which species you are after and plan accordingly as Florida's aquatic ecosystems vary greatly from North to South and East to West.