Located south of Los Angeles between Anderson Street and Warner Avenue is this 1.5-mile stretch of shoreline that is well renowned not only on the west coast but throughout the entire United States. Featuring one of the widest beaches in the west, a beautiful park area called "The Green Belt," and many local restaurants and shops, Sunset Beach is a great beach community for anyone looking to relax with a crisp ocean breeze near the Pacific Coast Highway.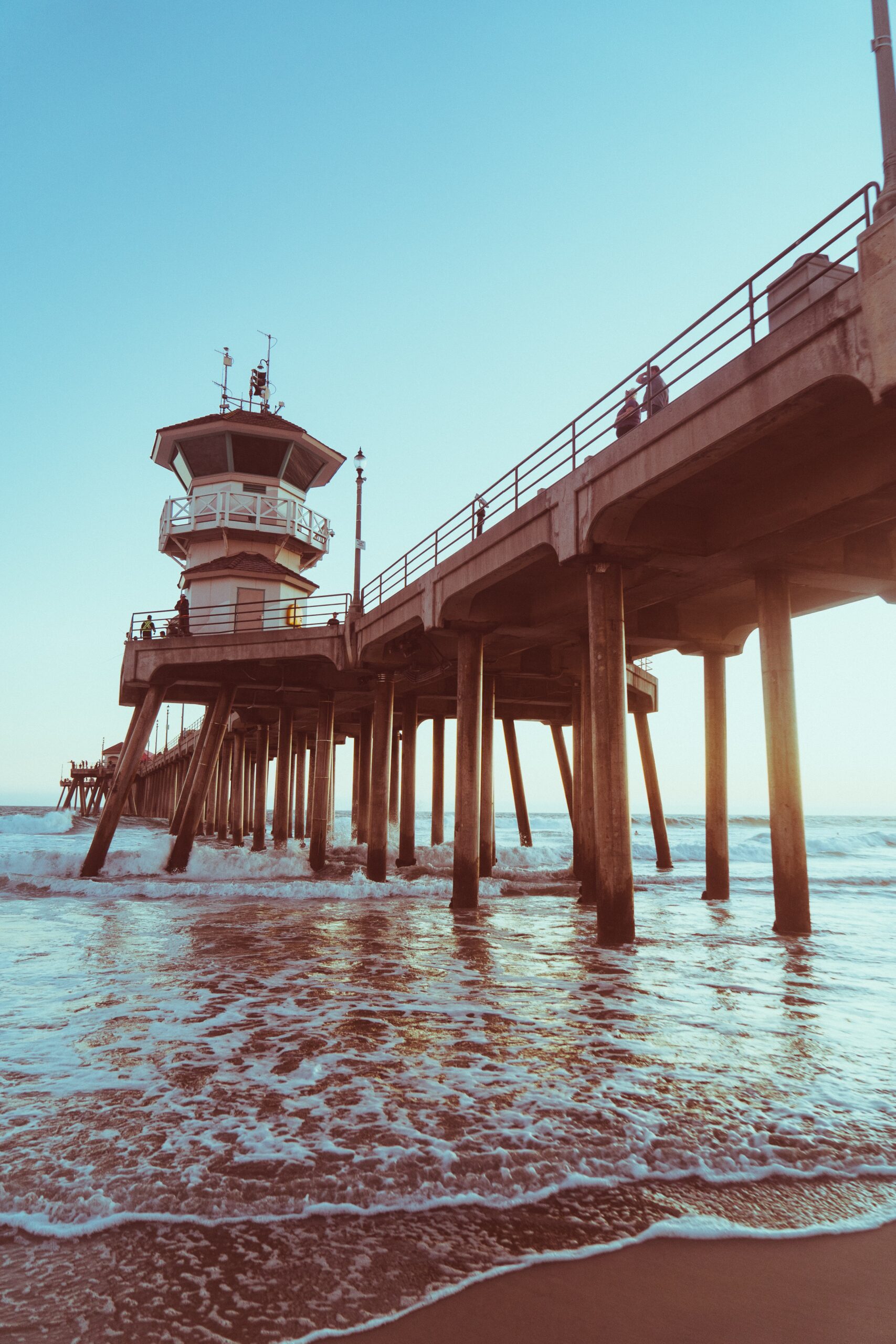 Down by the Beach
Sunset Beach is incredibly friendly for those with families because the beach offers many civilized amenities such as:
On-site showers
Restrooms
Picnic tables
Playground
Despite being only a mile and a half long, this Surf City beach remains spacious, even on busier days, since the beach itself is remarkably wide and allows for enough space to be comfortable, particularly during Covid. If you are not selective on where you place yourself to settle down on the shore, you are free to stop by at any time during the beach's hours which are traditionally 5:00 am through 10:00 pm. However, if you would like to be closer to the shore, or the restrooms, it is recommended to come earlier in the day to claim your space. 
Free parking is offered at Warner Avenue and Pacific Coast Hwy, and there are also options for metered parking along Pacific Avenue. Regardless of the location, you select, beach access is remarkably simple. In terms of activities to do on the beach, surfing is less popular in this location as there is higher foot traffic as well as casual swimmers. For surfers vacationing in the area, it is highly recommended to check out Capitola Beach or El Matador Beach! However, if you're a fan of skimboarding you should be able to find a stretch of shore to enjoy the skim at your leisure. Another popular beach activity here is kiteboarding thanks to the intense winds that can be frequently experienced. If you are not personally a kiteboarder or do not even know what kiteboarding is, it will at least add to the ambiance of sunbathing on the beach as kiteboarders can be seen zigzagging and catching air across the horizon. Kayak rentals are also available for those that are experienced. It is also important to note that there are no lifeguards on duty.
The Green Belt
The perfect spot for a midday picnic or to take your pet for a leisurely stroll is The Green Belt, which is a 14-acre park that is across the street from Sunset Beach. This "Central Park" of the area is also a perfect place to bring children since this park features a number of playgrounds to help the young ones burn some energy before heading home. The Green Belt also features public restrooms and on-site showers that are available to the public so you can wash the sand off before enjoying the greenery.
Bolsa Chica Ecological Reserve
Located within Orange County near Bolsa Chica State Beach is this 1,300-acre natural estuary. One of the most popular and well-established natural areas that California has to offer, photographers and bird watchers swarm to this area for a chance to witness spectacular local wildlife.
The Bolsa Chica Ecological Reserve hosts a remarkably wide range of biomes to explore including, seabird nesting islands, freshwater marshes, salt marshes, coastal dunes, wetlands, and the beautiful ocean. The area also has many parking lots, all of which have about 4-miles of hiking trails that allow you to witness spectacular California wildlife and eventually open up to scenic vantage points. If nature is not your comfort zone but you are still looking to get out and give it a shot, there are many tours offered in the area. 
Nature tours available in the reserve: 
Last Saturday Bird Watching Tour: is one of the most popular tours within the reserve and is located at the south parking lot, check-in is at 9:00 am. This hour and a half free of charge tour will allow you and your company to walk out and witness the beautiful birds of Southern California at the side of a knowledgeable tour guide. The species of birds that are available to be seen change drastically throughout the year, no matter when you decide to stop by there will be something special waiting for you. 
The Inner Bolsa Bay Tour: is for those that want to see as much of the area as possible, especially if you have a passion for aquatic wildlife. The tour begins at the Footbridge so tourists can witness underwater life as well as the beautiful salt and freshwater marshes and the birds that inhabit them. The tour will also bring tourists to two separate vantage points, the South Overlook as well as the North Overlook for some spectacular ocean views. Just note that the tour requires close-toed shoes, and visitors are highly encouraged to bring binoculars for the best possible experience. All of the tours offered at The Bolsa Chica Ecological Reserve can be seen here. Just adhere to the reserve's only two rules: always respect the wildlife in their home, and always listen to your tour leader.
Shops and Restaurants
With any beachside area, it goes without saying that you can expect to find some spectacular beachfront seafood nearby. Some recommendations are Harry's Rooftop Patio and Grill for some great eats and even greater surfside views and Taco Surf for some of the best fish tacos in the area. If you are looking for a more chill vibe with a great surf and turf menu, check out Captain Jack's. The area also offers great breweries, particularly Riip Brewery, a must-visit if you love IPA's as they have won many awards for their handcrafted pale ales.
Lastly, be sure to check out some of the shops in the area to bring home a proper souvenir. There are many beachside surf shops that offer great items that cannot be found in landlocked states, however, if the beach is nothing new to you, there are also many great boutiques and clothing shops in the area.
There is no wrong way to spend your time in the Huntington Beach area, just be ready to relax, get some sun, and enjoy all that nature has to offer.