When you talk about beaches in Florida, the mind usually turns south, to Miami, Tampa, and to the Florida Keys. But no discussion of the best beaches in Florida should be complete without consideration of the gorgeous and wild coast of Florida's "Big Bend." 
Just a short drive from Tallahassee, the Northwest Florida coast boasts some of the most beautiful beaches in the state. With sugar-soft sand and glittering emerald water, the Gulf of Mexico is the perfect place to relax on a beach vacation in Florida.
Read on for our list of the best beaches near Tallahassee, and discover another perfect corner of this wonderful part of the world.
Panama City Beach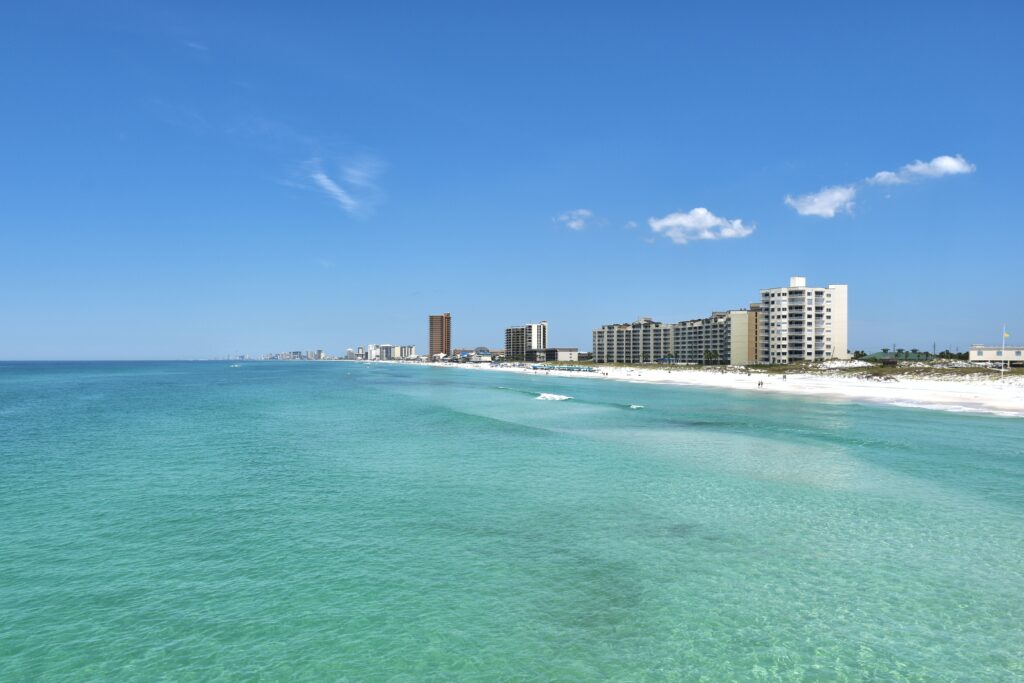 Panama City Beach is a wonderful 27 mile stretch of beach with over 100 access points that really offers a little something for everyone. Hugely popular with spring breakers and families alike, it's a wonderful spot for anyone looking for an active beach vacation. With two picturesque state parks, a gorgeous lagoon, a water park, a golf course, and of course an amazingly beautiful stretch of sand, you'll never run out of things to do in PCB!
St. George Island State Park
Despite being only 76 miles from Tallahassee, St George Island has managed to retain an island getaway feel that makes it a wonderful spot for beach lovers looking for a more peaceful experience. A 22-mile barrier island, St. George Island State Park has the longest white sand beach in the whole of Florida, as well as magnificent forest hiking trails, bay marshes full of birds and wildlife, and a selection of stunning coastal views from almost every corner of the island. One of the best spots for watching the waves is the Cape St. George Lighthouse, and sunset here is a truly out-of-this-world experience.
St. Marks National Wildlife Refuge
The St. Marks National Wildlife Refuge runs almost the entire length of the coastline south of Tallahassee and offers a delightful series of coastal marshes, islands, tidal creeks, and estuaries, interspersed with some simply stunning beaches. You are usually guaranteed to find near-deserted beaches, boating, fishing, and camping up and down the seven rivers that spill out into the Gulf.  This 68,000-acre reserve is a real back-to-nature experience for the more adventurous tourist.
Keaton Beach
Keaton Beach offers a laid-back, relaxed atmosphere, a beautiful public beach, and some of the best fishing in Northwest Florida. Whether you're fishing from the 700-foot pier or further out in the Gulf, the area is famous for having great year-round fishing, while scalloping off the beach itself is a delight during the summer months. The beach is stripped back, calm and rustic, with restrooms and a shaded picnic area, the only distractions are from the natural environment.
Hagens Cove
A beach designed more for nature lovers than sun-worshippers, Hagan's Cove is a haven for bird watchers. The grassy marsh flats and shallow waters of the bay are home to an array of exciting species, including bald eagles, and the panoramic views of the sandy cove from the top of the nearby observation tower are a treat. The long expanse of knee-depth water that stretches out from the beach itself makes it a wonderful and safe option for families with young kids.
Destin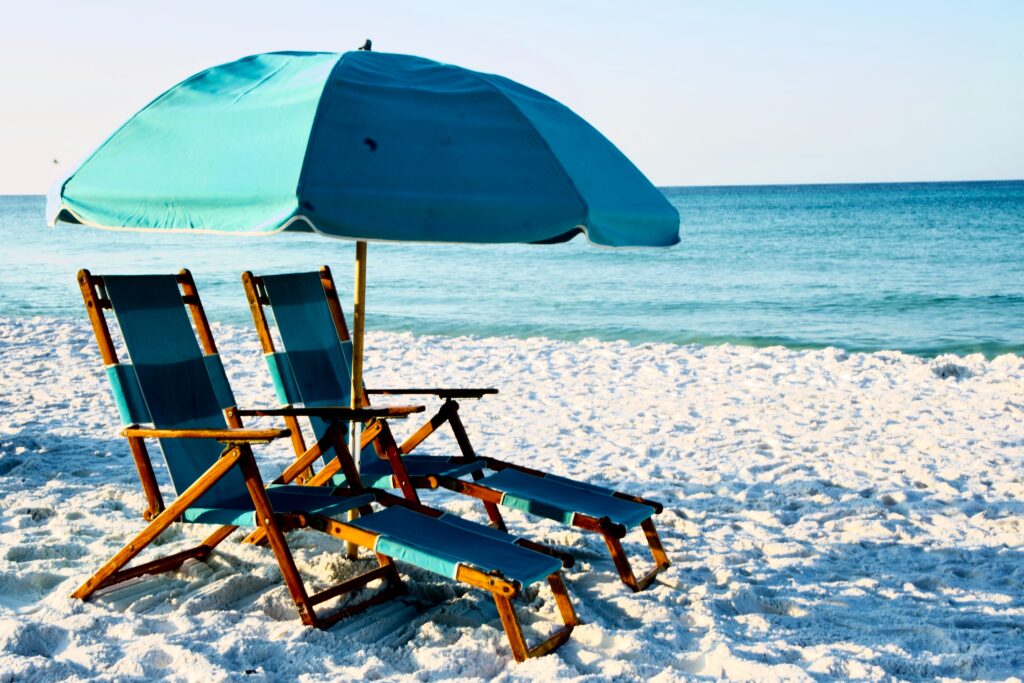 Destin gained the nickname of 'The World's Luckiest Fishing Village' for its remarkably fertile waters, and the beaches aren't half bad either. Long stretches of fine white sand washed over by glistening emerald waters and bounded by world-class luxury hotels and resorts, Destin is definitely one of the premier beach locations in Northwest Florida. Not content to sit on its laurels, Destin also boasts an exceptional dining scene, from low-key lunch spots serving up fresh fish and seafood to high-class fine dining restaurants, Destin is one of the finest beach locations near Tallahassee.
Grayton Beach
Grayton Beach is a bit of a hipster's paradise. Tucked away in the middle of Grayton Beach State Park, the beach itself is a beauty, while the town is a lovely little slice of hip eccentricity. The real hidden treasure is the Western Lake, which connects to the ocean via a short channel, and offers swimming, kayaking, and fishing in beautiful, natural surroundings.
Cape San Blas
Cape San Blas is a delightful sliver of land, a thin peninsula stretching 17 miles out into the St. Joseph Bay near Port St. Joe. The beaches all along the peninsula are quiet and tranquil, set amongst the wilderness of the surrounding wildlife reserve and seemingly far from civilization. Cape San Blas is a perfect example of the quintessential North Florida landscape and is a delight for swimmers, sunbathers, birders, and fishing enthusiasts alike.
Perdido Key
Perdido Key is the perfect antidote to the more brash, glitzy, and lively atmosphere of its neighbor, Pensacola. This 247-acre barrier island is tranquil, well-kept and truly beautiful, with spectacular sand dunes giving way to some lovely white beaches and the pristine waters of the Big Lagoon. The remote, calm ambiance of Perdido Key makes it a special place for nature lovers too, with nesting sea turtles, the endangered Perdido Key beach mouse, and a whole host of seabird species are all found here. It is the perfect place for a long weekend away from the hustle and bustle of day-to-day life.
Navarre Beach
Navarre Beach doesn't need much in the way of fancy descriptions to do it justice. It is simply the epitome of natural beauty and is regularly awarded the accolade of being the best beach in Florida. It is a wonderfully pristine stretch of sand, with almost nothing to do except sunbathe, picnic, swim, and take in the picturesque perfection of the surrounding landscape. If you really feel the need to get out of your chair, then the nearby Gulf Breeze Zoo and Navarre Beach Sea Turtle Conservation Center are excellent options and will delight your kids too.
Santa Rosa Beach
Named as one of the best beaches on earth by Travel & Leisure Magazine, Santa Rosa really is something special. Around 26 miles of spotless sand and azure-blue waters, fringed by the 15,000 acres of Point Washington State Forest. It is a stunning part of the world, with luxury beach houses and an exceptional dining scene in the local beachside community to match. The icing on the cake is the eccentric and exquisite artists' community at Gulf Place, which adds a bohemian touch to this wonderful vacation destination.
Mashes Sands and Bald Point State Park
While there are more beautiful beaches near Tallahassee, Mashes Sands at just 36 miles from the city is far and away from the closest, and it is an extremely pretty spot in its own right! Hidden away in the midst of the shallow salt marshes of Bald Point State Park, it is also surprisingly underexplored, and there's a good chance you'll have the whole beach to yourself! The waters are shallow and create an excellent series of intricate tidal pools, which makes it a wonderful place for beachcombing and shell collecting too.
With so many wonderful beaches just a short drive from Tallahassee, Northwest Florida really is one of the best places in the Golden State for a beach vacation.