When you think of Spring Break, chances are some of the images that pop into your mind are parties on the beach in Florida. Some of the best party beaches in the US are in Florida, and if you are looking for a good time on the sand it is definitely the place to go.
Some of the most famous and wildest beach parties in the world are in the Sunshine State, and it makes an ideal destination for anyone looking to get loose, stir it up, and shake it off as the waves roll in. And it isn't just about Spring Break, either. Florida's beach nightlife offers something for everyone, with more elegant, sophisticated options and laid-back parties also on offer.
So whether you are looking for blissed-out beach clubs for sundowners, beach bars pumping to serious EDM and rave beats, or a live music party scene on some of the world's most beautiful beaches, Florida is the answer! Read on for a list of some of the best party beaches in Florida, and start your beach party getaway prep now!
Panama City Beach
Panama City Beach offers one of the most affordable beach party scenes in Florida, making it a favorite for college students. Situated on Florida's beautiful Emerald Coast in the Panhandle, Panama City boasts beautiful views of the Gulf of Mexico, and a surprisingly wallet-friendly nightlife. Although you can't drink on the beach itself due to local byelaws, there are plenty of bars and clubs just a stone's throw away. Panama City is also home to the biggest nightspot in the country in the shape of Club La Vela, a behemoth of 48 bars, themed rooms, and a swimming pool right on the beach!
South Beach
South Beach has a global reputation as a party paradise, and one it richly deserves. With a combination of great live music, amazing beach bars and clubs, and the glories of Ocean Drive, this has to be one of the best spots to dance the night away in the US. Once summer gets going the beach is full of sound systems, DJs, and spring breakers shaking their stuff and having the time of their lives. If you are looking for the quintessential Florida beach party experience, or just want to try spring break on a Miami beach, then South Beach is the place.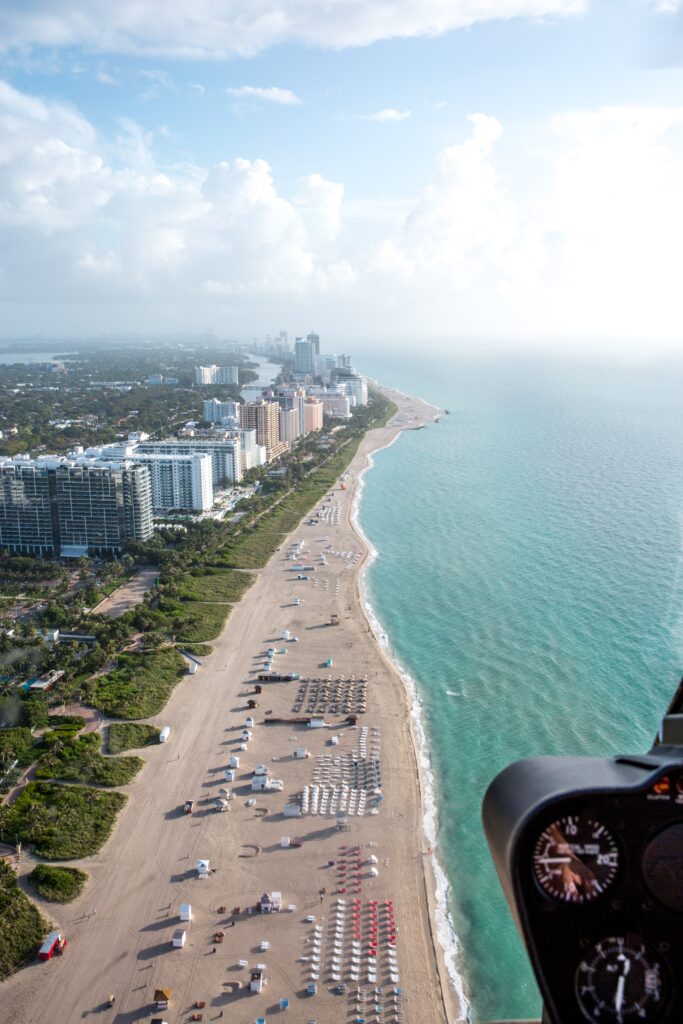 South Beach. Photo by Mark S on Unsplash
Daytona Beach
Home of the Daytona 500, Daytona Beach is also one of the most exciting beach party destinations in Florida. It has the honor of being the original Spring Break destination, and summer in Daytona is packed full of events, live music, festivals, and other exciting activities. Not only this, but with over 20 miles of beach to enjoy it is a stunning vacation destination during the day as well! The boardwalk is lined with elegant restaurants, vibrant tiki bars, and clubs that stay open until the early hours of the morning, making it the top pick as a Florida beach party destination.
Clearwater Beach
One of the most beautiful beaches in Florida in general also happens to be one of the best nightlife hotspots! Clearwater Beach on Tampa Bay is a stunning stretch of sand, and offers a selection of elegant, sophisticated, and chic nightclub options for the discerning party-goer. You can choose from beachside restaurants with live music, classy bars with DJs and table service, and huge mega-clubs with open-air stages right on the beach.
Sanibel Island
Sanibel Island is the perfect spot for a more relaxed take on the beach party scene, with a low-key, almost Caribbean vibe that is perfect for chilled-out party lovers looking for a calm atmosphere to enjoy music and live entertainment. It's turquoise waters are also great for snorkeling, making it a lovely all-round destination.
St Pete Beach
Clearwater's cooler, funkier cousin, St Petersburg is a haven for alternative nightlife lovers, with a younger but less 'Spring Break' focused atmosphere than other destinations near Orlando. The gorgeous beach is uncrowded, meaning you can enjoy peace and tranquility during the day, and there are plenty of bars and clubs where you can get funky, without the large crowds that are a feature of many other spots. For an almost Ibiza-like experience, head to the rooftop lounge at Hotel Zamora for stunning sunset celebration views over the Gulf of Mexico.
Jacksonville Beach
Jacksonville often flies a little under the radar when it comes to East Coast beaches, and is a massively underrated hidden gem of a Spring Break destination as well. There's something for everyone, with high culture and swanky restaurants mixing it up with the loudest, most pumping beach sound systems and wildest club nights around. If you need to take a break from the party, the serene surrounds of Amelia Island are only a short boat ride away.
Fort Myers Beach
Fort Myers combines gorgeous, powder-soft white sand beaches and a truly ground-breaking hip-hop scene to make it one of the best beach party destinations in the Sunshine State. It might be a family-friendly destination during the day, but at night things get pretty exciting, with nightspots like Lani Kai and Doc Fords offering beachfront entertainment long into the night.
Cocoa Beach
Cocoa Beach is a well-known surf and watersports destination, and as with most surfing beach towns it has a great party atmosphere as well! There are loads of vibrant yet laid-back bars, breweries, and clubs, perfect for letting your hair down after a hard day of catching breaks, with places like Coconuts on the Space Coast and The Sand Bar especially popular. It is also one of the most picturesque beaches in Florida, meaning that even if surfing isn't your thing you'll still find it a delightful place during the day as well!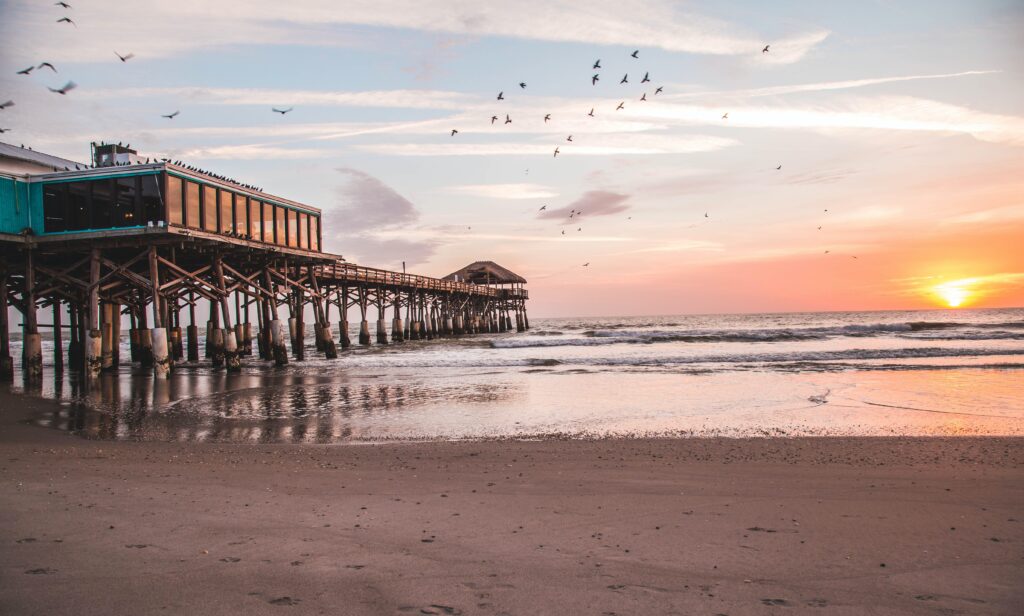 Cocoa Beach. Photo by Florian Schneider on Unsplash
Fort Lauderdale Beach
Often overlooked in favor of the Art Deco, razzle-dazzle joys of Miami Beach, Fort Lauderdale's gorgeous stretches of sand just south of Palm Beach offer serious party vibes and are a great Spring Break alternative in South Florida. Its Entertainment District is famous throughout Florida, and the nightlife here is slightly more affordable than down the coast in Miami, making it a great beach party option.