Florida is one of the gems of the US, a rich, varied, and always amazing travel destination that offers new and exciting experiences around every corner. From the Panhandle all the way down to Hemingway's Key West, the Sunshine State never disappoints.
Florida is so full of remarkable sights, awesome landscapes, amazing wildlife, and hidden gems that it would be virtually impossible to see everything you want to in just one trip. And the sheer choice of where to go and what to see can sometimes feel overwhelming!
There are, however, a few things in Florida that you just can't miss. While sunning yourself at South Beach or Fort Lauderdale, enjoying the luxury lifestyle in Naples, or checking out history in Sarasota or St Augustine might be great vacation choices, they aren't once-in-a-lifetime experiences. But there are plenty of Florida sights, spots, and attractions which are genuinely unique, and must be seen to be believed.
So if you want to discover the true treasures of the Sunshine State, read on. I've put together the ultimate Florida bucket list to ensure that you don't miss the best that this glorious corner of the USA has to offer.
Everglades National Park
The Everglades National Park is one of the most astonishing ecosystems on the planet. 1.5 trillion acres of wetlands and mangrove swamps, it is often described more as an incredibly slow-moving river covered in grass, marshes, and flatwoods. It is home to hundreds of unique animal species such as alligators, the leatherback turtle, the Florida panther, and the West Indian manatee, and exploring the park on an iconic airboat ride is an experience not to be missed.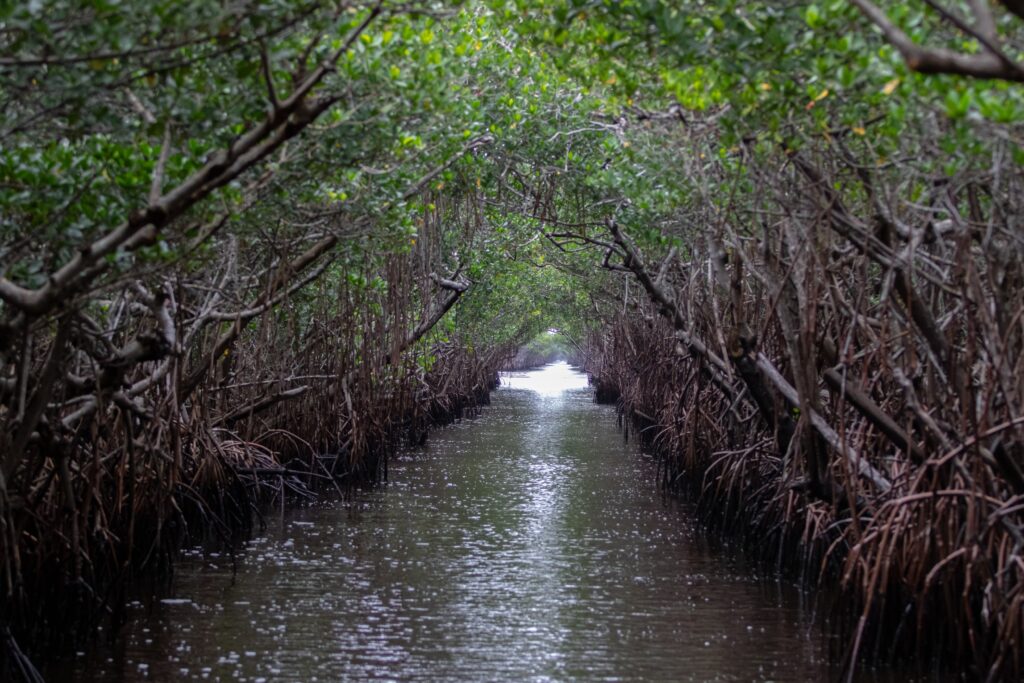 Everglades National Park. Photo by Mark Jacquez on Unsplash
Wildlife on Florida's Nature Coast
Central Florida, outside of St Pete, Clearwater, Tampa Bay and Orlando, is often overlooked, but has some of the most beautiful environments and most exciting natural wonders in the whole state. The 'Nature Coast' of Citrus County is packed full of astonishing experiences, and should be on any true Florida aficionado's list. From swimming with manatees in Crystal River and taking a kayak on the Chassahowitzka River to checking out giraffes and zebras at Dade County's Giraffe Ranch or sponge diving at Tarpon Springs, this little corner of Florida is full of surprises and worth a visit.
Dry Tortugas National Park
The whole of the Florida Keys is pretty special, and well worth visiting, from Key Largo to Key West and everywhere in between. But if you have to choose just one place to see, then make it the amazing archipelago of Dry Tortugas National Park, just 70 miles west of Key West. This amazing spot combines history and marine exploration for an unmissable experience. The islands are uninhabited, remote, and amazingly peaceful, while exploring the looming presence of Fort Jefferson is a blast. But the real attraction here is the snorkeling, as the national park includes numerous protected coral reefs and shipwrecks. Wild camp on one of the deserted white sand beaches to complete this out-of-this-world experience.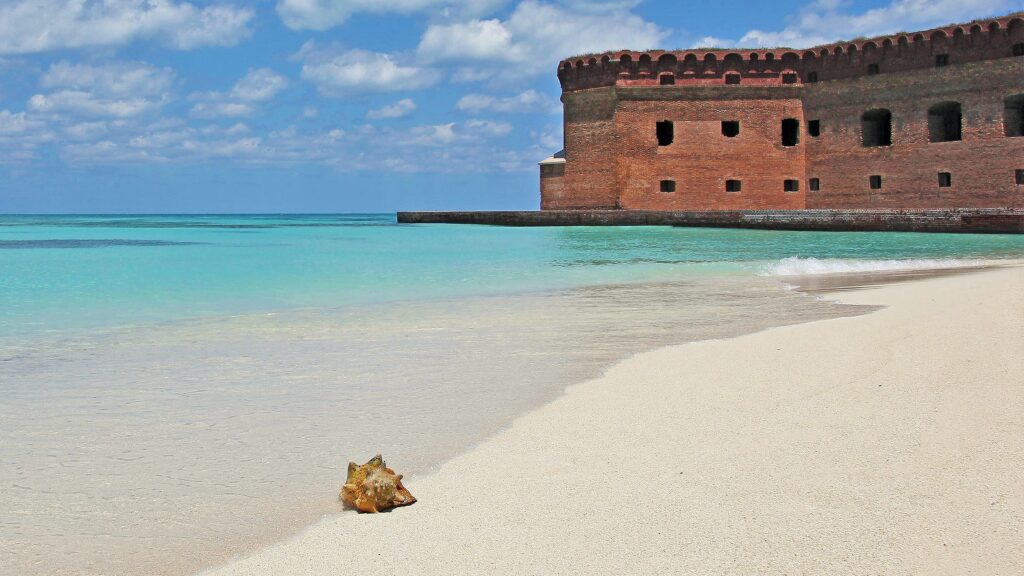 Fort Jefferson, Dry Tortugas National Park. Photo by Christopher Osten onUnsplash
Florida's Natural Springs
The natural hot springs of north and central Florida are a true marvel, one of the quintessential experiences that the Sunshine State can offer, and something you'll struggle to find anywhere else in the world. There are hundreds of natural, freshwater fountains across the state, from tiny trickles tucked away deep in the forest to vast, tumbling torrents in state parks discharging over 65 million gallons of water per day! Diving, snorkeling, or just swimming in these crystal-clear, glittering pools is something that will stay with you for the rest of your life, and for those after a more exhilarating experience, many of the springs offer tubing, canoeing, and kayaking.
Kennedy Space Center
From Florida to the moon! Florida plays a central part in humanity's adventures into outer space, with the Apollo 11 mission taking off from the Kennedy Space Center. This historic location on Cape Canaveral has been NASA's primary launch center for all missions into outer space, launching astronauts towards the final frontier for over 50 years! Visiting the Space Center is a truly humbling experience, where you can learn about the history of space flight, stand in awe at the brave astronauts who have gone out into the black, and maybe, if you are very lucky, see a launch taking place!
The Dali Museum
A museum dedicated to the Spanish artist Salavador Dali might not be what you expected to find in Florida, but St Petersburg on the Gulf of Mexico near Tampa is home to the biggest collection of Salvador Dali's masterpieces in the world, housed in the Salvador Dali Museum. The museum includes some of Dali's most famous works such as The Hallucinogenic Toreador, Geopoliticus Child Watching the Birth of the New Man and The Disintegration of the Persistence of Memory. This is a truly unmissable cultural highlight for fans of surrealism and art in general.
The Theme Parks of Orlando
No Florida bucket list would be complete with a mention for Orlando's amazing theme parks. Probably the best place in the entire world to visit if you like roller coasters, rides, fun things to do, and meeting your favorite animated film characters in person! From Walt Disney World and Epcot to Universal Studios and SeaWorld, the home of the Magical Kingdom, the Happiest Place on Earth is truly spectacular, and a must for kids of all ages.
Art Deco Architecture in Miami
Miami might be most famous for having the best beaches, but the true beauty of the city can be found in its stunning Art Deco architecture. While it might not be quite as celebrated, a day exploring the Art Deco district of Miami Beach is one of the best ways to get under the skin of this vibrant, glamorous, south Florida city, a rose-tinted peak into a bygone age, and a truly wonderful, Floridian experience. Finish your day off at the Art Deco Museum, and then take in the gorgeous ocean views with a cocktail in your hand, and soak up the vintage ambiance of the Roaring Twenties!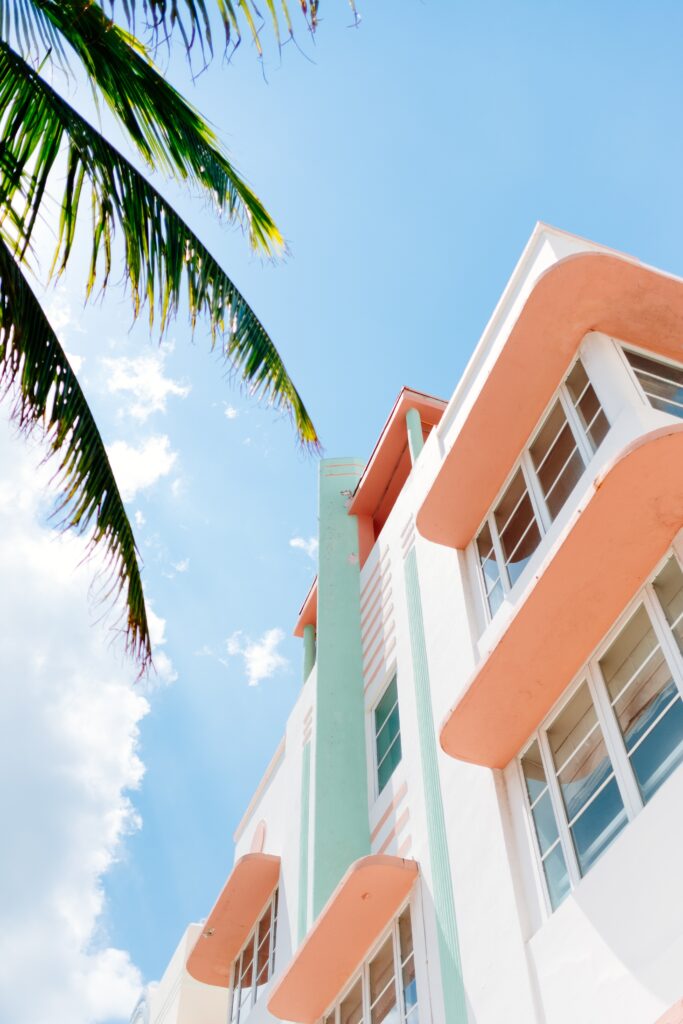 Photo by Jason Briscoe on Unsplash