Florida is one of the world's best beach destinations, with stunning beaches to suit every taste in every corner of the peninsula, from wild Atlantic offerings in the north east to dreamy Caribbean-style examples in the Florida Keys, stretching out towards Cuba until you hit Key West.
Florida's beaches are many and varied, with sands that range from golden to dark, and even orange! But sometimes nothing will do but the pristine, powder-soft, tropical paradise stylings of a white sand beach surrounded by glittering turquoise waters. Luckily, Florida is blessed with plenty of these as well!
So if you are heading to the Sunshine State for a beach vacation and have an itch that can only be scratched by ivory-white sand, here are some of Florida's greatest and most beautiful white sand beaches.
North Florida Beaches
The Gulf Coast in Northwest Florida boasts some of the most pristine white sandy beaches in the state. The beaches are almost entirely quartz, making the sand itself super soft, and an absolute delight to walk on.
Pensacola Beach
The heart of Florida's Emerald Coast and one of the best beaches in the Florida Panhandle, Pensacola is renowned for the bright green waters that give the area its name, as well as its stunning, untouched white sand beaches. Pensacola Beach is a gorgeous spot, wonderfully suited to families, with a wealth of activities for beachgoers including snorkeling, volleyball, biking, and watersports. Just along the barrier island you will also find Santa Rosa Beach and Navarre Beach, two other excellent options.
Destin Beach
Relishing its nickname of 'The World's Luckiest Fishing Village', the picturesque beach town of Destin is almost equally as famous for its delightful beaches. Boasting emerald waters, sugar-soft white sand, and a ton of great places to eat freshly caught fish and seafood, it's a pretty special spot. With the added bonus of Henderson State Park just around the corner, it is absolute paradise for lovers of the great outdoors.
Fort Walton Beach
Fort Walton offers a more active, vibrant, and lively vacation experience than many of these beaches, due to the buzz and excitement of the town itself. Crammed with great attractions, cultural sites, and tourist activities, you can wile away plenty of time here without even setting foot on the beach…but don't! The stunning stretch of ivory, powder-soft sand is one of Fort Walton's best features, and one of the best beaches in the area. 
Panama City Beach
Panama City Beach boasts over 25 miles of white sand coastline in a picture-perfect location of the Gulf of Mexico, as well as offering the charms of St Andrews State Park and Camp Helen State Park. Despite its popularity, its size means that it almost always feels deserted, and even on the busiest days you can guarantee peace, quiet, and tranquility.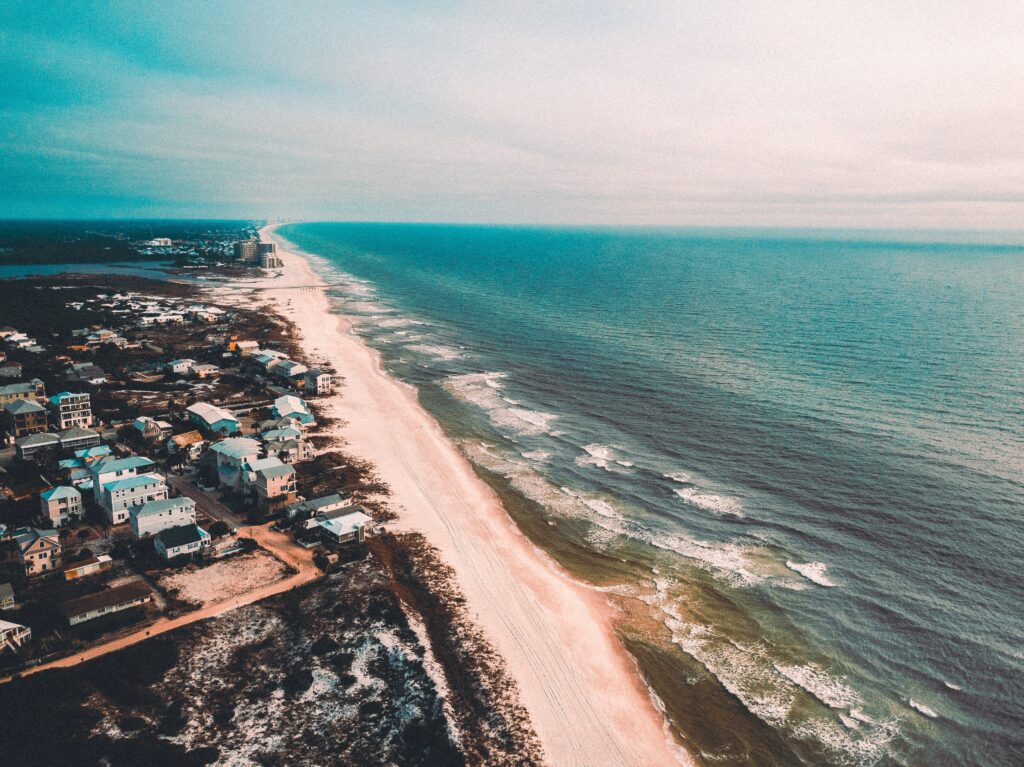 Panama City Beach. Photo by Jose Llamas on Upsplash
Grayton Beach
An artistic and cultural hub, Grayton Beach boasts a load of great art galleries, charming beachfront wooden homes, and one of the best beaches in the state. It is a little off the beaten track but all the better for it, a little slice of nature with a bunch of excellent hiking trails, pine flatwoods, and the mirror-like calm of Western LAke, as well as the pristine, shining-white sands of the public beach itself.
Central Florida Beaches
The beaches on the west coast in Central Florida around Tampa Bay are not quite as pure as their northern cousins, but are just as beautiful and benefit from an even better climate.
Clearwater Beach
Consistently mentioned in 'Best Beaches in America' lists, Clearwater Beach is one of Florida's most famous stretches of sand. It is renowned for the quality of the beach itself, the extraordinary views it offers over the Gulf of Mexico, and the exciting activities visitors can take part in.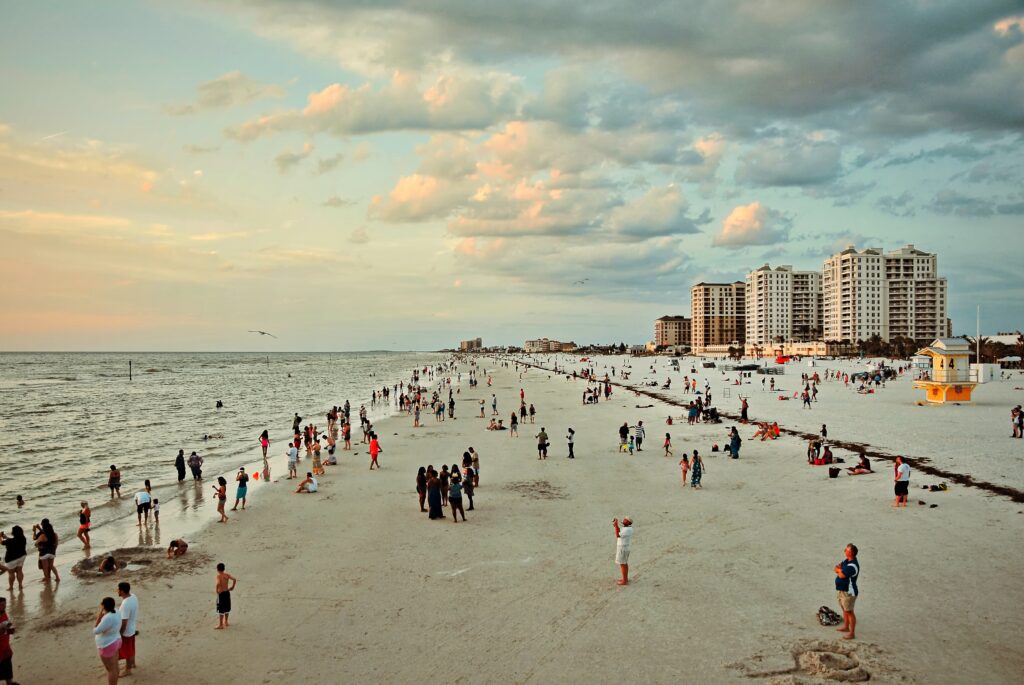 Clearwater Beach. Photo by Robert Linder on Unsplash
Anna Maria Island
With warm crystal-clear waters and silky-soft white sand, the barrier island of Anna Maria Island, just at the mouth of Tampa Bay, is a wonderful option for anyone searching for a white sand beach vacation. Quiet and peaceful, it's a great spot for wildlife watchers, as the calm waters are often home to manatees and dolphins.
St Petersburg Beach
Possibly the prettiest beach in the entire state, St Pete Beach (as it is affectionately known) is the less-developed younger sibling of Clearwater and offers a great family-friendly alternative (lifeguards included) for anyone looking for white sand beaches near Tampa.
Siesta Key Beach
Another beach famous as one of the best in the country, Siesta Key barrier island just off the coast of Sarasota is unusual for a central Florida beach. Siesta Beach is almost pure quartz sand, more like the beaches on the Emerald Coast and the panhandle than others in the area.
South Florida Beaches
South Florida beaches are world-famous, with an incredible climate and an almost Caribbean feel, but there's more to south Florida than Miami! These are some of the most beautiful white sand beaches at the southern tip of the USA.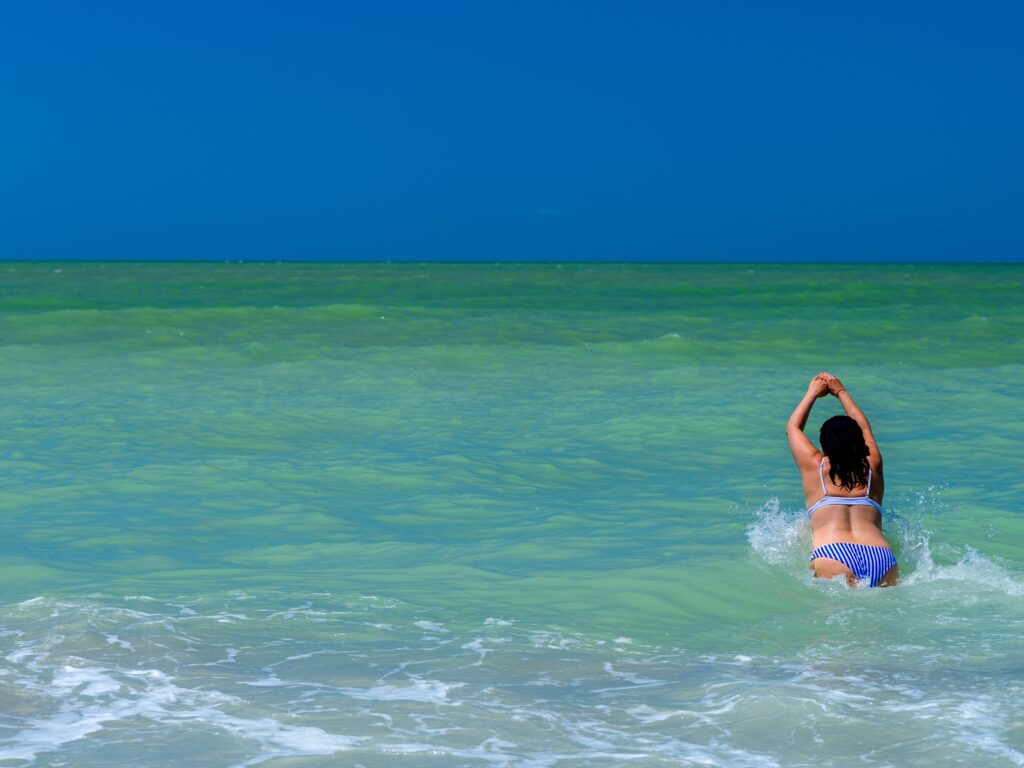 Sanibel Island. Photo by Philippe Murray-Pietsch on Unsplash
Sanibel Island
Sanibel Island is one of the loveliest spots in the whole of Florida, a truly gorgeous island in the Gulf of Mexico just off the coast of Fort Myers. Famed as a beachcomber's paradise, the island is wonderful for collecting seashells, but the white sand beaches that surround Sanibel are also perfect for just laying back and soaking up the delightfully tranquil atmosphere.
Marco Island
Just a stone's throw from the mangroves of the Everglades and not far from Naples, Marco Island is the only island of Florida's Ten Thousand Islands that has been developed. Despite this development it remains a low-key, peaceful, natural spot, and is a great option for nature-lovers thanks to Collier Seminole State Park, Briggs Nature Center, and its amazing white sand beaches. 
Naples Beach
A little haven of luxury on the Florida Gulf Coast, Naples is well known as a spot for high-class boutique shopping, fine dining, and some incredible cultural highlights. It is also one of the finest beach resorts in the state, and a perfect option for those travelers who want to add a little elegance and sophistication to their search for the perfect Florida white sand beach.