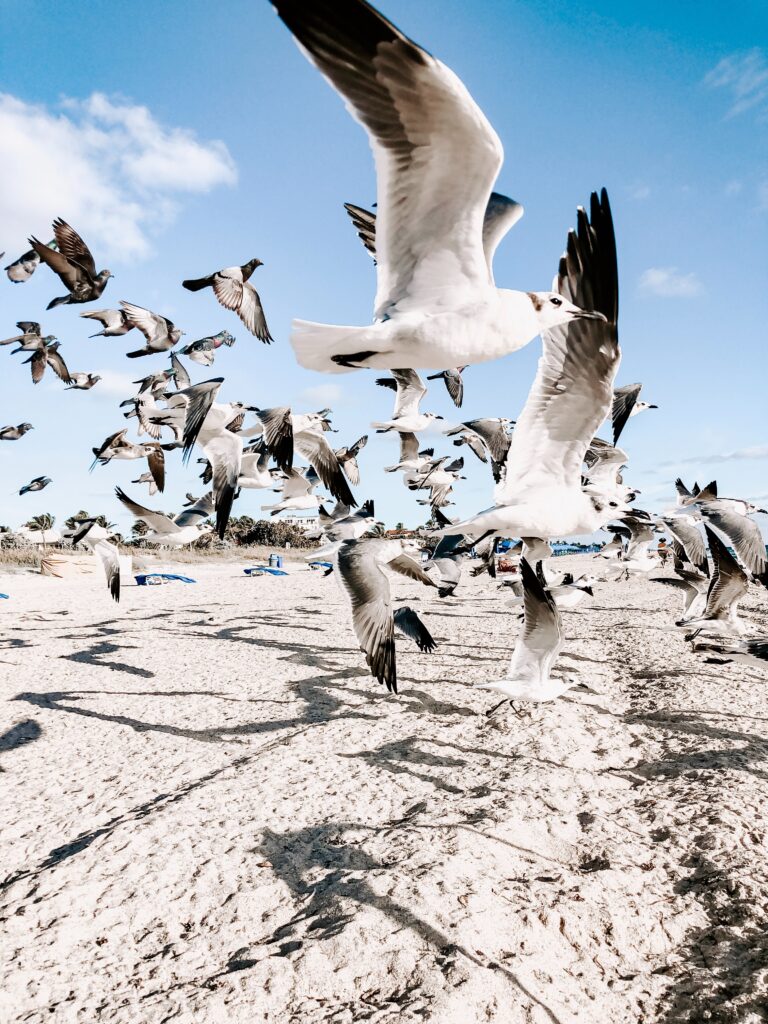 Santa Rosa Beach is the largest seaside community in South Walton, and it can be confusing at first to work out exactly where it begins and ends! Stretching all the way from Choctawhatchee Bay in the north, down to the Gulf of Mexico, Santa Rosa offers miles and miles of sand, trails, clear blue water, and some charming oceanfront towns. Plus, this beach is perfect for families and couples alike and has activities for everyone to enjoy!
Bounded by Sandestin and Inlet Beach, Santa Rosa Beach is an Emerald Coast gem. The beach itself is a beauty, perfect for sun lovers or more active swimmers and paddleboarders, while the beach neighborhood is delightful, named as one of the top towns in America by Travel + Leisure. Full of food joints, independent stores, and even a couple of craft breweries, there's just as much to do off the beach as on it.
And it's not just about eating and drinking either! Santa Rosa Beach is steeped in history, founded back in 1910. It includes the historic Point Washington community and the impressive Wesley Mansion. When you add in the surrounding 15,000 acres of longleaf pine woods that make up Point Washington State Forest, Santa Rosa Beach is a pretty special place to visit.
How to Get to Santa Rosa Beach
Santa Rosa Beach is located on Florida's Emerald Coast, between Pensacola and Panama City, not far from the Alabama state border. The nearest cities are Destin and Fort Walton, and the area is well-served by the Destin-Fort Walton Beach Airport and Pensacola International Airport. Santa Rosa Beach is about an hour's drive from Destin-Fort Walton and an hour and a half from Pensacola.
Although part of its charm is its slightly remote location, driving to Santa Rosa Beach is not hard either. It is located just off Highway 98, which runs from Pensacola to Panama City via Destin and Fort Walton, and is not far from the I-10, which takes you from Mobile to Tallahassee and eventually on to Jacksonville!
Best Places to Stay in Santa Rosa
Santa Rosa Beach offers accommodation to suit every taste and budget, from shoestring guesthouses and vacation rentals to private luxury resorts. Whether you are looking for boutique hotels, self-catering beach houses, or all-inclusive beachfront hotels, you are sure to find something that suits your vacation needs here.
Accommodations Based on Budget
Cheap
30A Inn & Suites
30A Inn & Suites is a 3-star hotel that's a favorite with budget travelers. A charming boutique hotel just half a mile from the beach, it is conveniently located near the Topsail Hill Preserve State Park, where you can take relaxation to a whole new level thanks to towering sand dunes and 3-miles of deserted white sand beaches.
Mid-Range
30A Beach House – Sanibel
For something a little bit cozier, the charms of the 30A Beach House – "Sanibel" by Panhandle Getaways are hard to ignore. Just south of the center of Santa Rosa Beach in Seagrove Beach, this five-bedroom condo is just 250-feet from the ocean and comes fully equipped with all the comforts of home.
Luxury
WaterColor Inn & Resort
A 500-acre resort overlooking the glorious sand of Santa Rosa Beach, WaterColor Inn offers a stunning, family-friendly hotel experience on Florida's Gulf Coast. Beautifully designed by architect David Rockwell, the resort features 60 rooms and suites, tennis courts, a private boathouse, a spa, and fitness center, several excellent restaurants, and a private beach!
Best Places to Eat in Santa Rosa
The excellent selection of restaurants in Santa Rosa Beach offers visitors an authentic taste of coastal cuisine. From fine dining to indulgent southern comfort food, there's a little something for everyone here.
Fish Out of Water
For beachside dining with a view of the Gulf, you can't get much better than Fish Out of Water. With a superb menu bursting with fresh seafood and locally sourced produce, this is a great place to get a taste of genuine Emerald Coast cuisine.
Pickles Beachside Grill
With an incredibly relaxed ambiance and a non-existent dress code, Pickles is the perfect place to grab a bite to eat straight from the beach. There's nothing casual about the cooking here though, and they serve up mouthwatering burgers, salty seasoned french fries, and specialty fried pickles that will leave you full and satisfied.
Cafe 30 A
Just down the road in Seagrove Beach, Cafe 30 A is one of Santa Rosa Beach's most highly-regarded and fanciest restaurants. A delightful smart-casual atmosphere previews superb fine dining options, with a menu full of fresh seafood, locally-raised meat, and remarkable desserts. Whatever you do, don't miss the banana beignets!
Fun Things to do in Santa Rosa Beach
Relax at the Beach
Santa Rosa's sugar-soft, pristine white-sand beaches are its main attraction, and rightly so! It is one of the most beautiful beaches in Northwest Florida. The waters of the Gulf of Mexico on the west coast of Florida are warm and calm here, making it perfect for swimming, paddleboarding, or just laying back and relaxing with your toes sunk in the sand. For the slightly more active traveler, there are plenty of places to rent kayaks, and there's nothing quite like a sunset viewed from the water. If fishing is your thing, there are plenty of fishing charters that will take you out into the Gulf and offer a full day's entertainment. If none of those activities sound appealing to you, I am a huge advocate for bringing your own beach activities. My favorite things to bring are my portable beach volleyball set and spike ball (if I'm traveling with my more active friends). When I'm at the beach with my family, we typically play bocce ball (they don't like to dive in the sand and exercise).
The Coastal Dune Lakes
A fascinating natural phenomenon only found in a few places around the world, the coastal dune lakes of South Walton County are well worth exploring. Hike or cycle around the 15 lakes and don't forget to take photos!
The State Parks
As well as the 15,000 acres of longleaf pine forest that make up the Point Washington State Forest, Santa Rosa is also wonderfully located for three state parks – Grayton Beach State Park, Deer Lake State Park, and Eden Gardens State Park. With miles and miles of hiking and biking trails and some fascinating wildlife to discover, the state parks of South Walton County are a real highlight of any visit to Santa Rosa Beach.