California is world-famous for its amazing golden beaches. The entirety of its 840 miles of Pacific coast is packed with amazing stretches of sand and swimming spots, and with the iconic Pacific Coast Highway taking you from Crescent City to San Diego, it's easy to find excellent sandy beaches anywhere.
Best of all, with year-round sunshine and an almost perfect climate, California offers warm waters and sun-drenched beaches even at the coldest times of the year, rivaling Florida and Hawaii as the best place for a winter break.
Granted, not all beaches are created equal, and you need to seek out the warmest spots in the state if you are looking for midwinter rays and don't want to don a wetsuit to swim. But there are plenty of beach spots on the West Coast that offer the best beach experience every month of the year.
To find winter sunshine, white sand beaches, and warm waters at the coldest times of the year, it's probably not a shock to learn that you have to head south. The further south along the California coast towards San Diego you go, you are far more likely to encounter hotter weather, more likelihood of sun, and warmer seas.
Luckily southern California is full of south-facing beaches that soak up the sun and create perfect year-round conditions for swimmers. There are even a few more secret spots further north, where the coast sticks out westwards into the ocean, where south-facing shores create unexpected micro-hotspots.
So if you are looking for a southern California beach vacation, or just want a seriously hot-weather getaway, here's a list of the warmest beaches in the Golden State to inspire you to seek out the sunshine!
Long Beach
For sunny skies and year-round warmth, you can't get much better than Long Beach, just outside of Los Angeles. In July and September, Long Beach has an average high temperature of 82 degrees, with the mercury topping out at around 84 in August! It's hardly cold in winter either, with temperatures regularly getting above 67 in December and January. Year-round, Long Beach boasts the highest annual average daily temperature, making it a no-brainer for beachgoers looking for heat on a California beach at any time of the year. 
Newport Beach
If you are looking for warmer ocean waters over higher air temperatures, then take a look at Newport Beach, just north of Laguna Beach. This gorgeous stretch of sand takes in both sides of Newport Beach Pier, all the way from Balboa Pier in the south to West Newport Park in the north. You'll get magnificent ocean views (both ways) from the old wooden pier, lifeguards, a vibrant beach town with great shops, restaurants, and cafes, and, most importantly, warm, clear waters to swim in! In mid-to-late August, the ocean temperature here peaks at around 70 degrees, but the water is great to swim in pretty much year-round, staying at 69 degrees from early July to mid September, and at 68 until mid October! Thanks to the shelter provided by the Balboa Peninsula, Newport doesn't get the chill from the open ocean, and boasts California's warmest waters at any time of the year.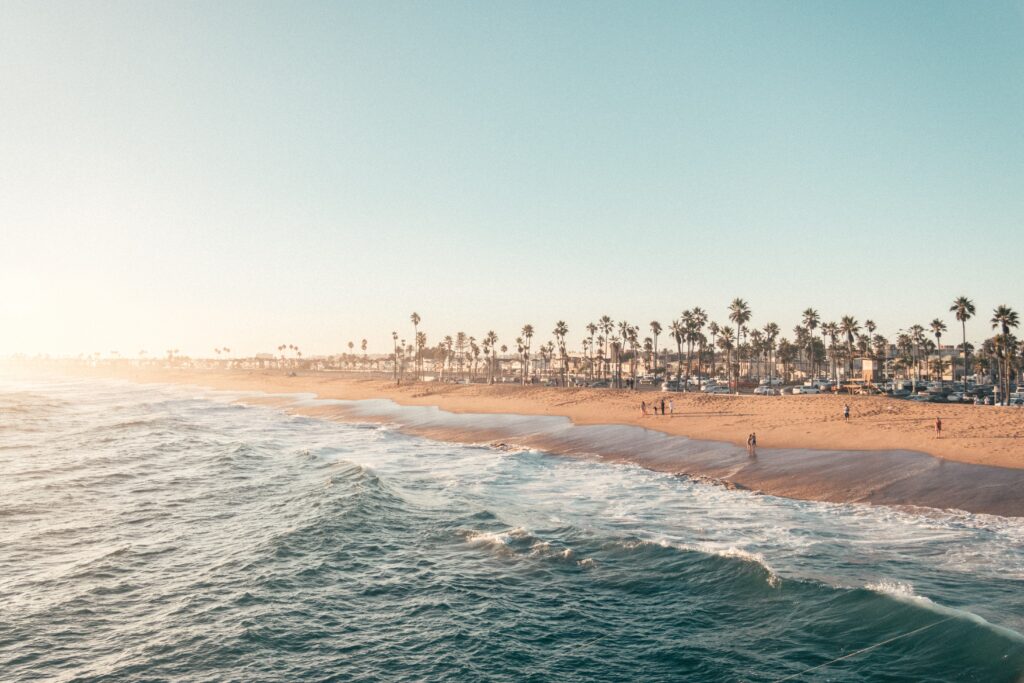 Newport Beach. Photo by Gustavo Zambelli on Upsplash
Santa Catalina Island
Right down in the south of California, with south-facing beaches and plenty of shelter provided by the California Channel Islands, Santa Catalina is a gorgeous spot for those who like their beach vacations hot and their sunsets dramatic. Just a short hop from Malibu or Santa Monica, and with water temperatures up to ten degrees higher than at beaches in the north of the state, this SoCal paradise is absolutely perfect for late summer or early autumn trips, to make the most of the last of the summer sun. Just like in Newport, the Pacific Ocean here runs to about 70 degrees in August, and can stay at 68 or so right through until the end of October.
Shelter Cove
But it isn't just the southern half of California that benefits from warm weather. In fact, for late summer vacations you might just be better off exploring northern California, as the best weather of the year usually arrives here in September. Shelter Cove, in the King Range National Conservation Area, is northern California's warmest seashore, as the coast extends west at this point ensuring a south-facing beach. Temperatures regularly break 70 degrees from May through September, and it is almost always a few degrees hotter here than on any other northern California beach. And the difference is even more pronounced when it comes to the water temperatures, with the ocean regularly around 6 or 7 degrees warmer here than any other north coast beach.
Avila Beach
For a warm winter vacation, Avila Beach might be just what you are looking for. Set just outside San Luis Obispo, north of Santa Barbara and about halfway down the coast from San Francisco to Los Angeles, the picturesque San Luis Obispo Bay provides shelter and keeps the water warm even in the depths of winter. Best of all, daily temperatures in December and January average at around 67 degrees, meaning you might even sneak in a spot of sunbathing! The delightfully retro Avila Pier offers great views, and is quite a sight itself, stretching out nearly 1600 feet into the bay. As an added bonus, if these balmy temperatures are still a little chilly for you, you can head to the delights of Avila Hot Springs, where heated freshwater pools will heat up the coldest of bones.
La Jolla
La Jolla is best known as a surfer's paradise, but head to the northern tip and you'll find La Jolla Cove, a delightful corner of California's Ellen Browning Scripps Park. Sheltered from the huge waves that roll in from the west across the rest of La Jolla, it is a far more comfortable swimming beach than the rest of the area, and offers one of the warmest beaches in California. Ocean temperatures here reach a delightful 69 degrees in the summer, and will be consistently warmer than most other spots in the state throughout the year. One of the best things about La Jolla Cove, however, is not the beach itself but the creatures that call it home. Explore the southern end of the beach and you'll find a small tunnel through the rocks that lead to a network of tide pools filled with fascinating marine life like anemones, crabs, and urchins, while the warm rocks that frame the beach are often the resting place for gigantic sea lions!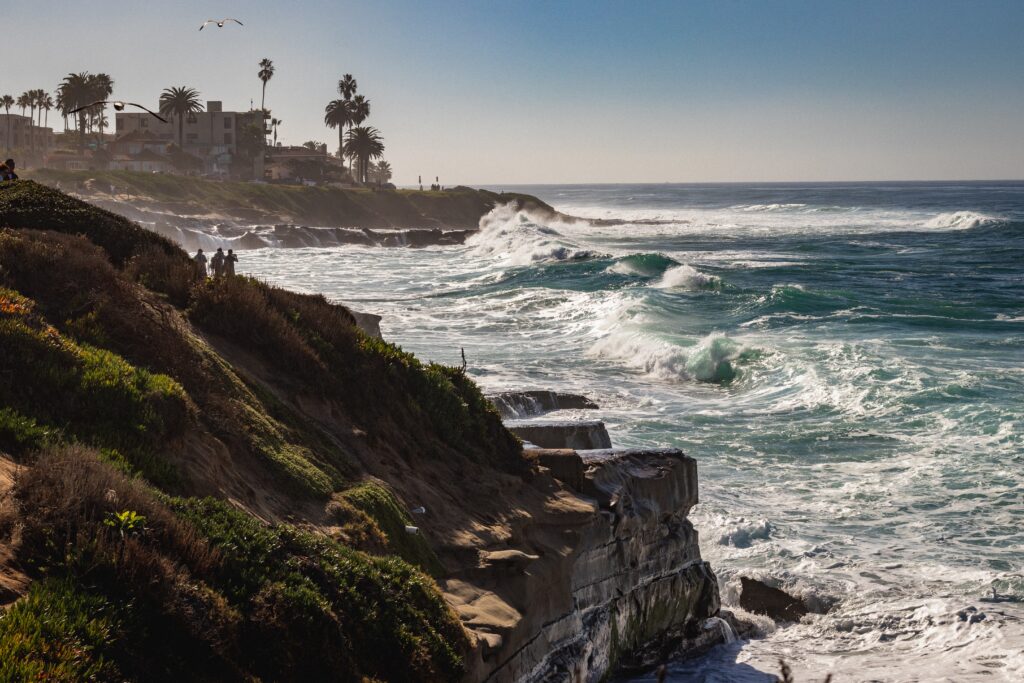 Photo by Zach Josephson on Unsplash